Meet one of the best ways to get your protein fix.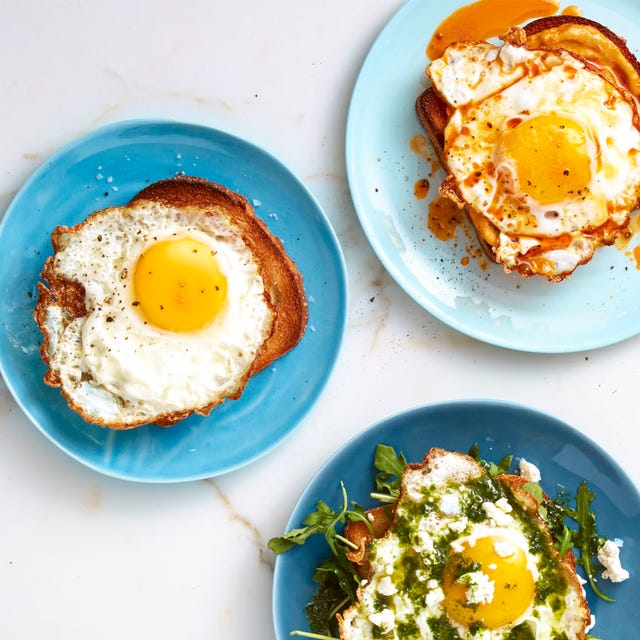 There are a whole number of reasons why people love eating eggs for breakfast: They're cheap, they're versatile, and they're packed with good-for-you protein, which means they're perfect for starting your day off strong. But if you're looking to break out of your typical scrambled-eggs-and-bacon shell — get it? — you'll want to try one of these delicious and easy egg recipes.
Here, we've rounded up all sorts of creative egg-based dishes, including loaded egg bakes, tasty twists on the traditional breakfast sandwich, and make-ahead quiches. No matter which one you choose to whip up, your brunch crowd (whether it's Easter, Mother's Day, or just a typical morning with the fam) will leave feeling happy and full until lunch rolls around. So, what are you waiting for? Get crackin'!
1.Basil-Arugula Crispy Egg Toast
Top your morning toast with a sunny-side-up fried egg, goat cheese, arugula and our basil oil recipe for the ultimate breakfast.
Ingredients
1/2 c. olive oil, plus 3 tbsp. for frying eggs
2 large eggs
2 slices bread
1/4 c. chopped fresh basil
arugula
goat cheese
Directions
1. Crack 1 egg into each of 2 small cups. In 10-inch nonstick skillet, heat 3 tablespoons oil on medium-high until very hot. Carefully add eggs; stand back, as oil will sputter. Cook until whites are golden brown and crisp around edges and set around yolks, 2 minutes. If edges are dark but whites are not set, remove skillet from heat; cover 10 seconds or until whites are cooked. Season with pinch salt and pepper.

2. In blender, combine 1/2 cup olive oil with chopped fresh basil. Toast 2 slices of bread. Top each with arugula, crumbled goat cheese and one crispy egg. Drizzle with basil oil.
---
2. Bacon & Egg Fried Rice
Ingredients
1tbsp. canola oil
5 slices bacon,
chopped1 bunch green onions,
sliced1 bag (5 ounces) baby spinach
3 c. Cooked white rice
1 c. frozen peas
1/2 tsp. salt
4fried eggs
Let's get it started
In 12-inch skillet, heat canola oil on medium-high. Add bacon and cook until bacon is crisp.
Add green onions and baby spinach. Cook 2 minutes, stirring.
Add white rice, frozen peas, and salt. Cook 5 minutes, stirring.
Divide among 4 plates; top each with a fried egg.
Nutritional Information (per serving):Calories 400; Protein 16g; Carbohydrate 41g; Total Fat 18g; Saturated Fat 6g; Dietary Fiber 3g; Sodium 555mg
3. Mushroom Ragu and Polenta Egg Bake
Ingredients
3 tbsp. olive oil
2 med. shallots, finely chopped
1 1/2 c. medium or coarse-grind cornmeal
1 lb. mixed mushrooms, sliced
2 cloves garlic, finely chopped
1 can (14 oz.) diced tomatoes
6 lg. eggs
1/4 c. Grated Parmesan
Chopped parsley, for garnish
Directions
Preheat oven to 350 degrees F. In 4- to 5-quart saucepot, heat 1 Tablespoon oil on medium. Add shallots; cook 3 minutes, stirring. Add broth and 3 cups water. Heat to boiling on high. Slowly whisk in cornmeal and 1/2 teaspoon salt. Reduce heat; simmer 4 minutes, whisking often.
Transfer polenta to 3-quart baking dish; cover with foil. Bake 45 to 50 minutes or until grains are tender and polenta has thickened, stirring every 15 minutes. Remove and discard foil.
Meanwhile, in 12-inch skillet, heat remaining 2 Tablespoons oil on med. Add mushrooms, garlic and 1/2 teaspoon salt; cook 10 minutes or until mushrooms have softened, stirring. Stir in tomatoes; cook 1 minute. Spoon mushroom mixture over cooked polenta.
Crack eggs and gently nestle into mushroom mixture. Top each with pinch salt and pepper. Sprinkle top with Parmesan. Bake 20 minutes or until whites have set. Garnish with parsley.
Nutrition Information (per serving): About 225 calories, 9 g protein, 25 g carbs, 10 g fat (2 g saturated fat), 5 g fiber, 790 mg sodium.