"Have nothing in your house that you do not know to be useful, or believe to be beautiful" — William Morris, designer.
Wish you could refresh your home décor more often? Many of us crave frequent updates to our living spaces — not just for the chance to reinvent a room's style or bring in practical upgrades, but for the sheer novelty of a good shake-up.
Changing things around can bring real benefits; there's evidence it can boost creativity and enhance your mood.
A lack of time and money can get in the way, but this doesn't have to be the case. With a few insider tricks you can reinvent your living space at next to no cost, and in a matter of hours.
Here's how to start enjoying some new Feng Shui today.
A new view
Property stylist Kahlia Cordony of Cordony Designs suggests finding a new focal point in a room — whether a fireplace, balcony area, outdoor view or feature wall — and reshuffling the furniture accordingly. "This can be an effective way of removing unnecessary pieces of furniture, increasing functionality and allowing for a better flow for the room's layout," says Kahlia.
The simple act of decluttering can do wonders for your room transformation and is a great way to freshen up the space and make it feel much bigger.
To create a chic and sophisticated vibe, keep the decoration simple and your bits and pieces contained. "Baskets and decorative bowls are smart ways to store bits, while still giving an effortlessly styled look," Cordony advises.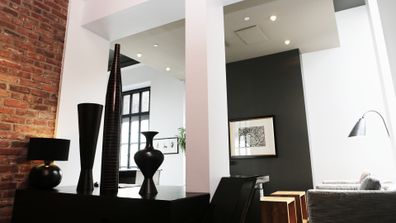 Shop your home
Sydney-based stylist, interior decorator and buyer Emma Blomfield is a proponent of switching items from room to room.
"Wander around your house and see if you can place some items in a different room," she suggests. "Try mixing up the decorative pieces you have on your mantelpiece with the items you have displayed on your hall table."
"Shopping your own home is something we should all do — not just because it's cheaper than a day at the shops, but also to avoid contributing to landfill by buying new things we don't need."
Texture play
"Styling the same fabrics and textures can make a room appear dull and flat," says Kahlia. "Mix things up by layering materials and textures, solids and patterns — try it with throws, pillows and area rugs."
For pillows and cushions, this can work particularly well. A variety of sizes and textiles will add dimension and create a relaxed vibe. "For that plush and overstuffed look on the bed, lounge or arm chair, use 55cm pillow covers with 60cm pillow inserts."
Experiment with mixing metals, glass, wood and leather items for different effects. Metallics like silver, chrome and brushed nickel reflect light beautifully, so there's a great opportunity to play around with sources of light on different surfaces.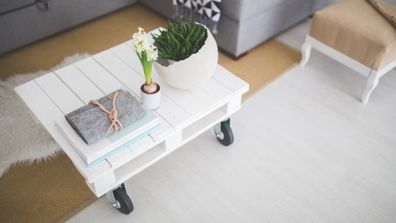 Light work
Lighting is a big factor in any home. Graphic and interior designer Tegan Klusenberg (Klustreet Design) is a firm believer in utilising light to create the vibe you want for a space.
"The fastest and cheapest way to change the atmosphere of a room is to change the lighting," says Tegan. "Take a look at your globes and see if they are warm or cool, and talk to your local lighting supplier to gather information on which light will suit your home.
"Also, don't forget to look up. Your ceiling is the biggest part of any space. Can you re-paint it or add some new light fittings?"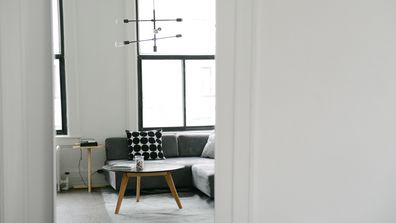 More ideas from the experts
PAINT UPDATE: A lick of paint can brighten up almost any space. Keep the colour neutral and consistent, and steer away from 'feature walls' as they tend to close in a room. Instead, select a nice piece of art to hang on blank wall spaces and add colour through foliage and accessories.
FLORALS: Pick up a bouquet from your florist and distribute into smaller arrangements — it's a quick and fun way to add vibrant colour and a living element to every room.
FRAMES: Changing up artwork can easily be done in a day. Put your prints in new frames for an instant room refresh.
RUGS ROGUE: Test out rugs in different rooms, or try them at new angles. If you're feeling unsure, jump on Pinterest for more interior styling inspiration.