The best Thai food in Bangkok you can't miss!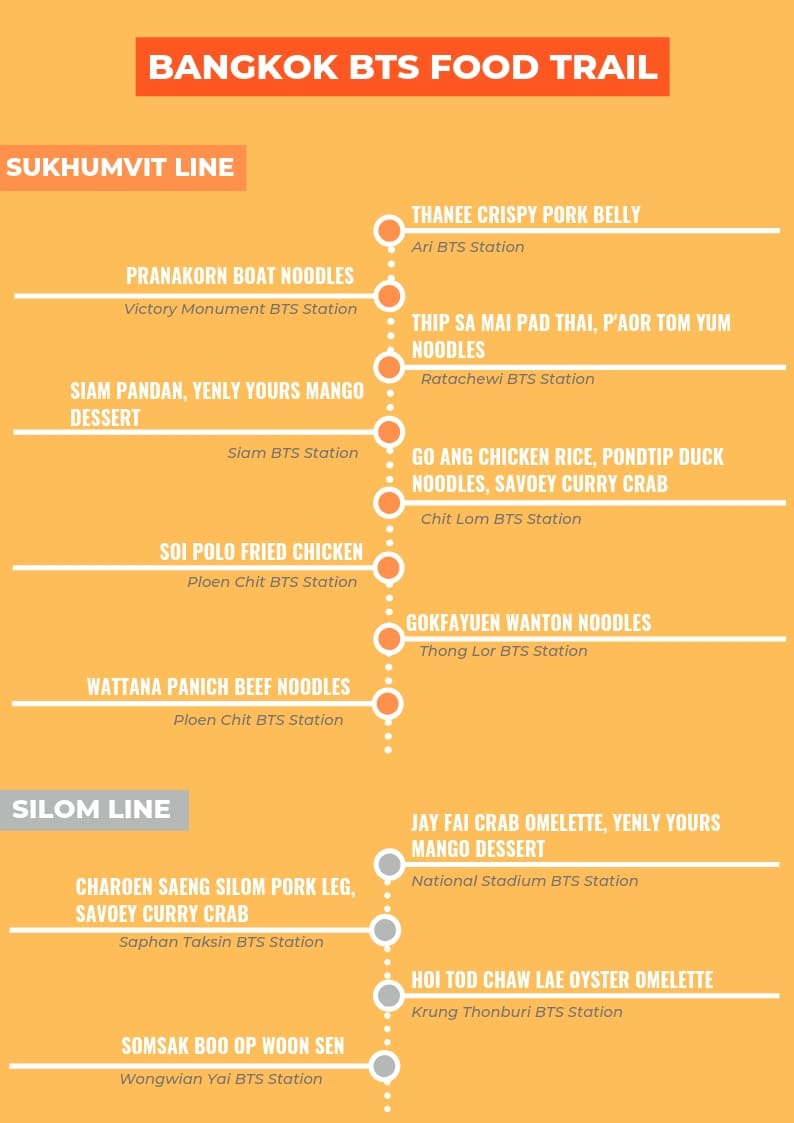 One of the biggest reasons people keep going back to Bangkok is the huge array of delicious and cheap local food! If you're a foodie, you'll have to check out these local food stalls in Bangkok, serving up only the most authentic and hearty plates of your favourite Thai dishes. You'll probably only spot locals in these food joints and that's how you know this place is the real deal!

We've put together some of the best restaurants serving up the most delicious food and the best part is you can access these all with the BTS skytrain! This way you won't have to worry about being stuck and starving in a traffic jam.
Essentials for your Bangkok food hunt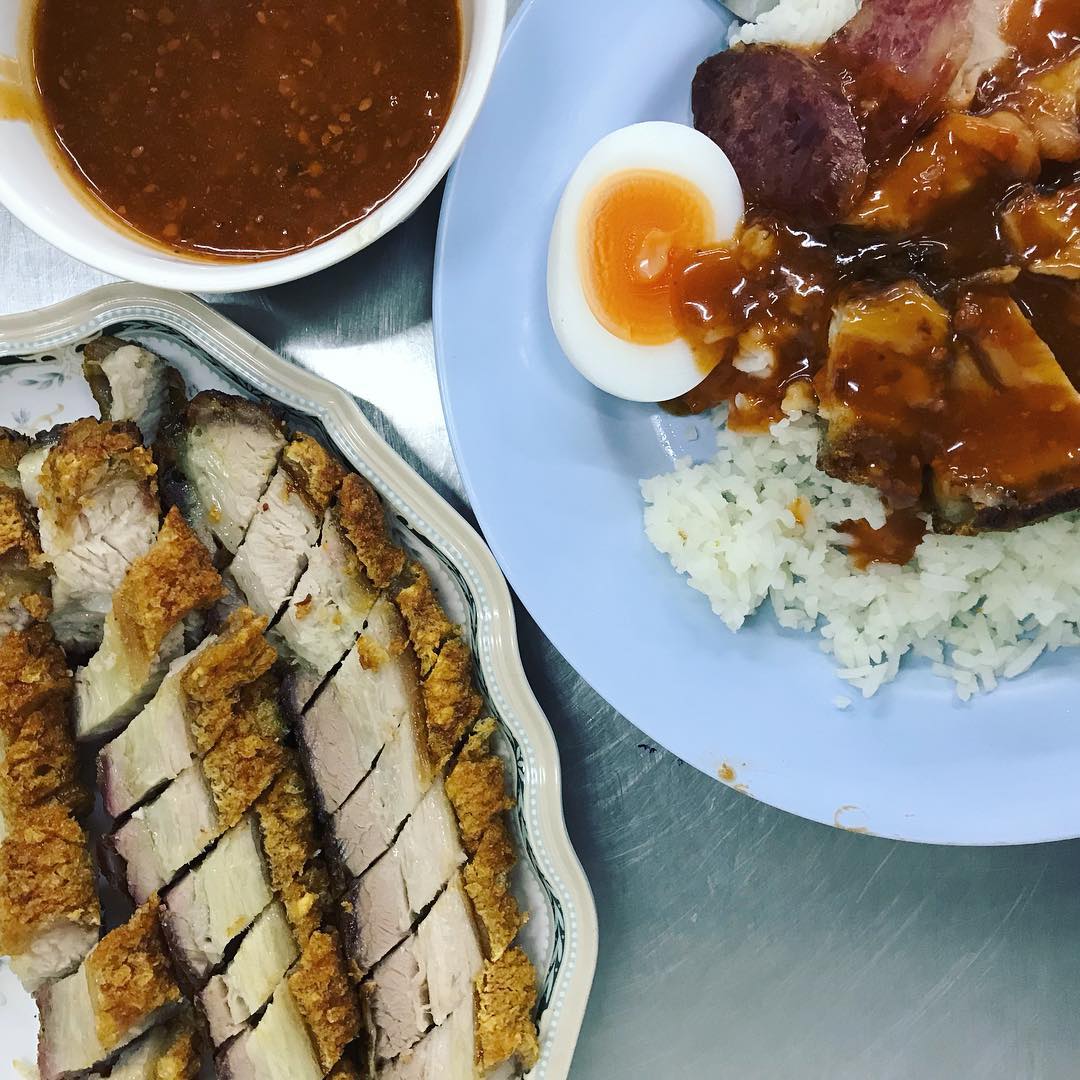 1. Thanee Restaurant – Crispy Pork Belly
Moo Grob or Crispy Pork Belly is a must try when you're in Bangkok! The perfectly crunchy skin that gives you an eargasm when you bite into it, combined with the soft and tender meat make for the perfect treat no matter what time of day. Many say the best Moo Grob can be found at Thanee Restaurant.

If you're looking for a full meal, order yourself a Khao Moo Grob, a plate of rice with pork belly and a soft boiled egg! They'll also douse your rice with some gravy and give you a side of Chinese sausages.

Nearest BTS Station: Ari Station
: 1161-3 Soi Phahonyothin 5 Alley Phahonyothin Rd Samsennai Payathai Bangkok 10400.
: Daily from 8am to 5pm
2. Thip Sa Mai – Pad Thai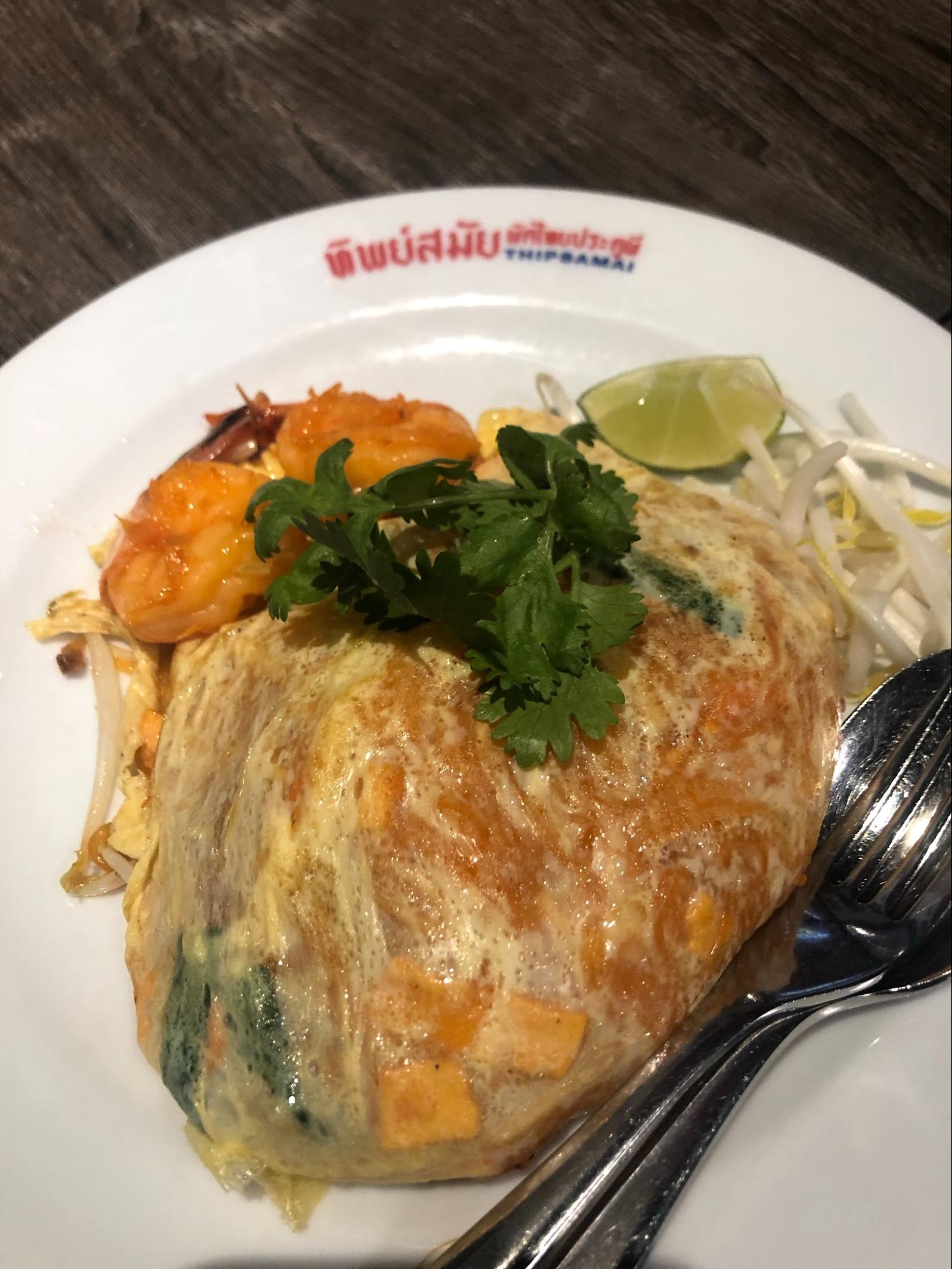 You know a stall is famously good when you see long snaking lines outside, especially in the hot humid Bangkok weather. Some have declared Thip Sa Mai the best Pad Thai in Bangkok and here's why.

With over 50 years of history, this plate of Pad Thai is different from the rest out there because of 1 thing – they mix shrimp paste into their dish. This gives the Pad Thai a bright orange color, unlike the dull brown colored Pad Thai out there. Be sure to order yours with an omelette wrapped around it!Nearest BTS Station: Ratachewi
: 313-315 Maha Chai Rd, Khwaeng Samran Rat, Khet Phra Nakhon, Bangkok 10200
: Daily from 5pm to 2am
3. Wattana Panich – Beef Noodle Soup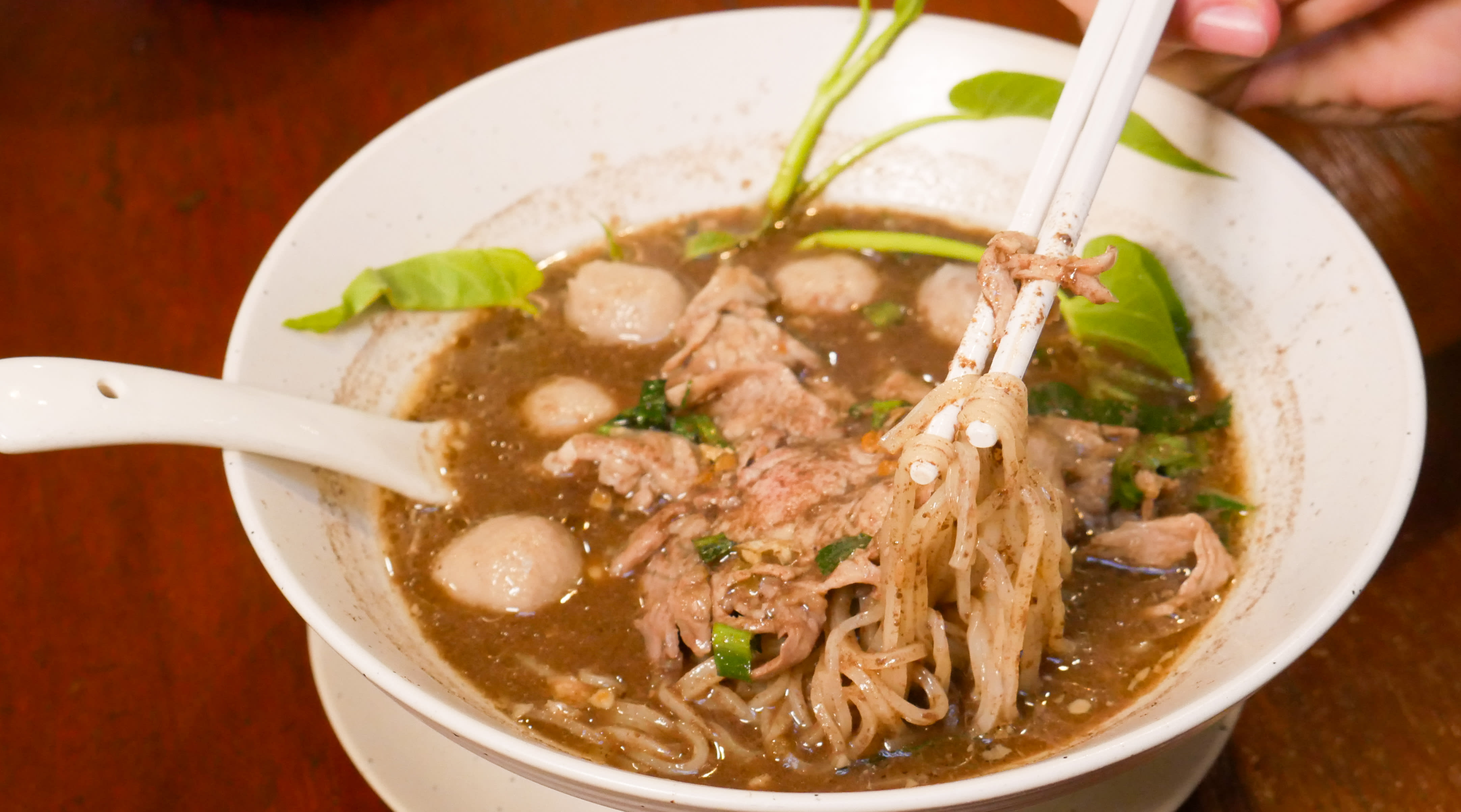 The master soup stock used to stew the beef has been around for 60 years, just let that sink in. Imagine how flavourful and intense the taste of the broth is after being boiled for that long, this is reason alone to visit the stall.

If you need further convincing that Wattana Panich has the best beef noodle soup in town, the melt in your mouth beef will have you slurping up every last bit of meat in your bowl.Nearest BTS Station: Ekkamai
: 336-338 Soi Ekkamai 18, Sukhumvit 63 Rd, Khlong Toei Nuea, Wattana, Bangkok 10110
: Daily from 9am to 9pm (Closed on the last Monday of every month)
4. P'Aor – Tom Yum Noodles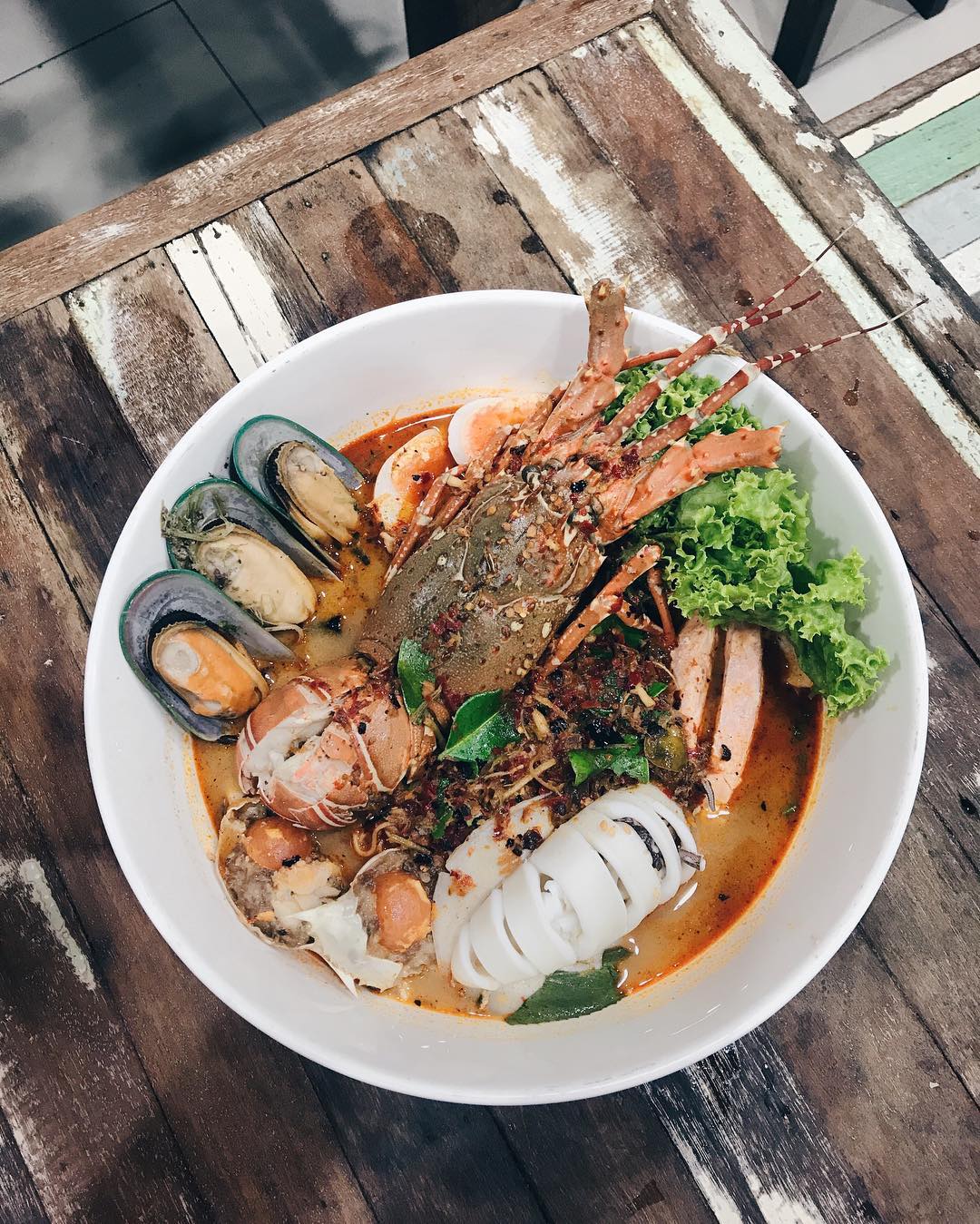 Claiming to serve the best Tom Yum Soup in Bangkok, P'Aor even has a sign for it! If you're looking for some fancy Tom Yum Noodles, their lobster noodles come served with Crab stuffed with minced meat and roe, a medium-sized lobster, mussels, salmon, sotong stuffed with minced meat and tang hoon, an onsen egg and noodles. While this comes at a price tag of THB 1200, it can feed up to 6 people!Nearest BTS Station: Ratchathewi
: 68/51 Soi Petchaburi 5, Between Soi 5 – 7, Phaya Thai, Ratchathewi, Bangkok
: (Tues to Sun) 10am – 10pm, Closed on Monday
5. Somsak Boo Op (สมศักดิ์ ปูอบ) – Woon Sen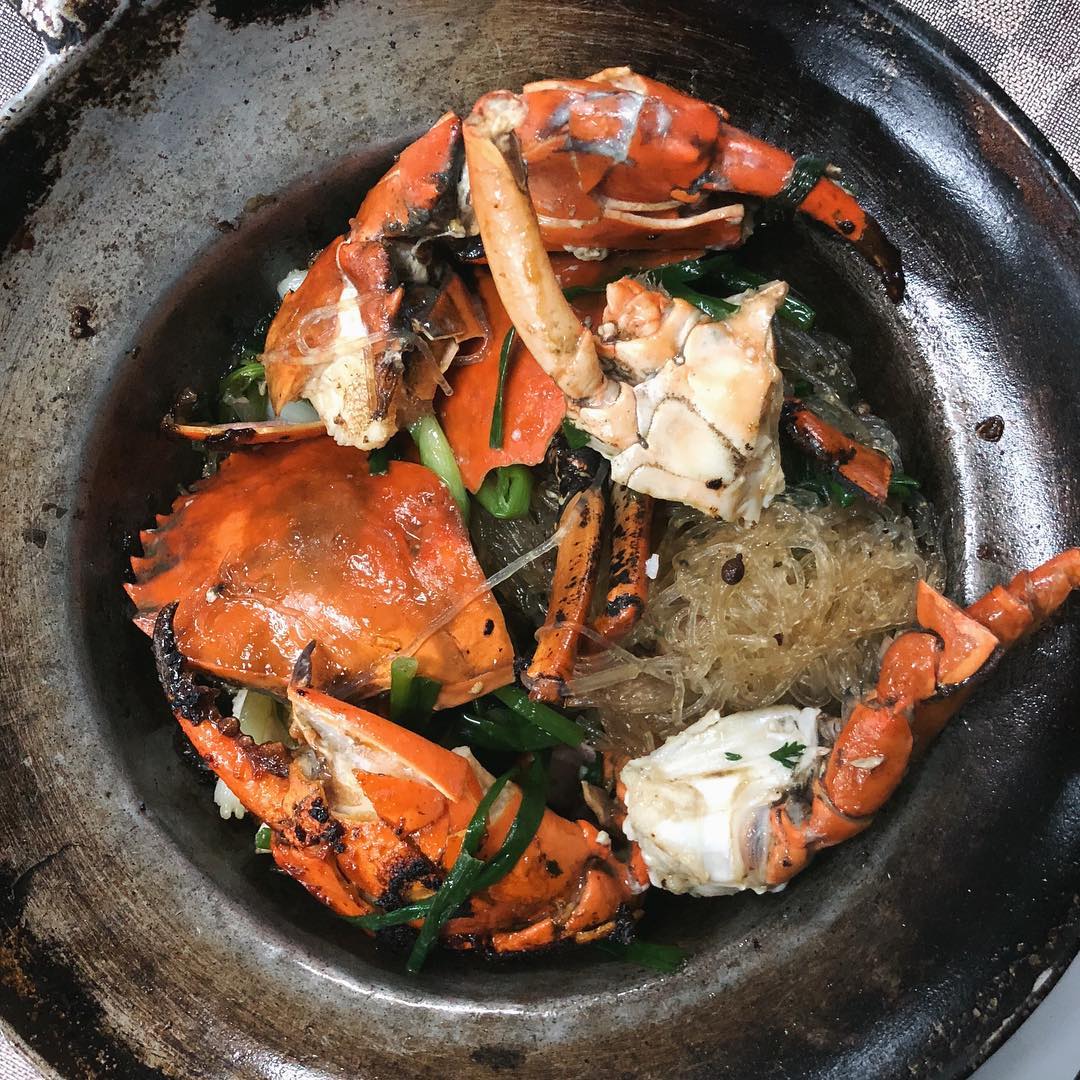 Woon Sen means vermicelli and in Bangkok, it's usually served with crab or shrimp. Somsak Boo Op is a small street side stall serving up one of Bangkok's best renditions of the dish. This humble establishment run by just 1 chef, consists of a mixture of glass noodles, your choice of seafood and topped with green onions.

As with all good stalls, you can expect a queue, but the smoky flavour of the seafood topped with the perfectly seasoned vermicelli is definitely worth the wait.Nearest BTS Station: Wongwian Yai station
: Thanon Charoen Rat Soi 1, Khlong San, Bangkok
: Monday – Saturday from 5 pm – 10 pm, Sunday from 4 pm – 10 pm
6. Hoi Tod Chaw Lae – Oyster and Mussel omelette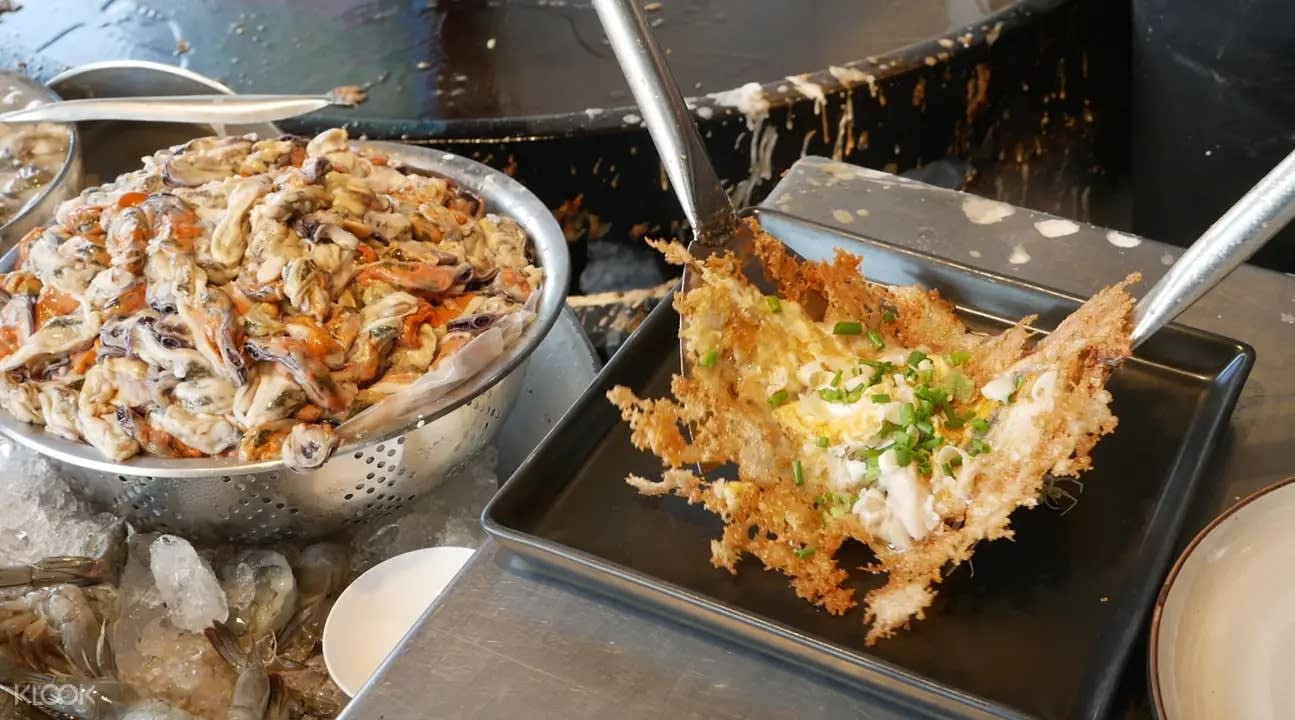 The Oyster Omelette at Hoi Tod Chaw Lae is one of the crispiest ones you'll find in Bangkok. This humble eatery is famed for their shrimp pad thai and their stir fried mussel and oyster omelette. Topped with plump juicy seafood, it's no wonder this shophouse is a local favourite.

Klook yourselves a plate of the signature Crispy Oyster Omelette or a plate of their pad thai and enjoy discounts on your meal!Nearest BTS Station: Krung Thonburi
: Charoen Nakhon Rd. Banglumpoolang, Khet Khlongsan, Bangkok
: Daily 9.30am-10.30pm
7. Braised Pork Trotter – Charoen Saeng Silom (ร้านเจริญแสง สีลม)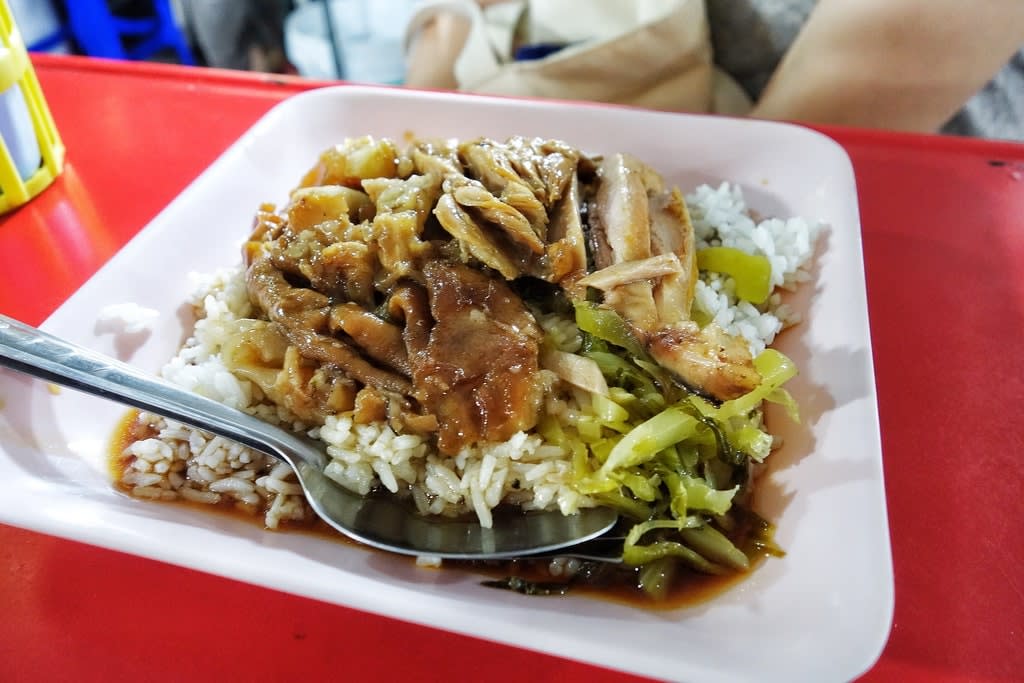 Braised pork leg Khao Kha Moo is one of the most popular Thai street food dishes and one of the best places to get this is at Charoen Saeng Silom. This hole in the wall eatery is one that you just might walk past if you didn't know about it but locals from all parts of the city come here just for this.
You can expect deliciously seasoned fats that melt in your mouth along with tender pork lean meat and don't forget your bowl of rice to soak up all that gravy.Nearest BTS Station: Saphan Taksin
: 492/6 Soi Charoen Krung 49, Bangrak, Bangkok 10500
: Daily 8am – 2pm (or until they sell out)
8. Pranakon – Boat Noodle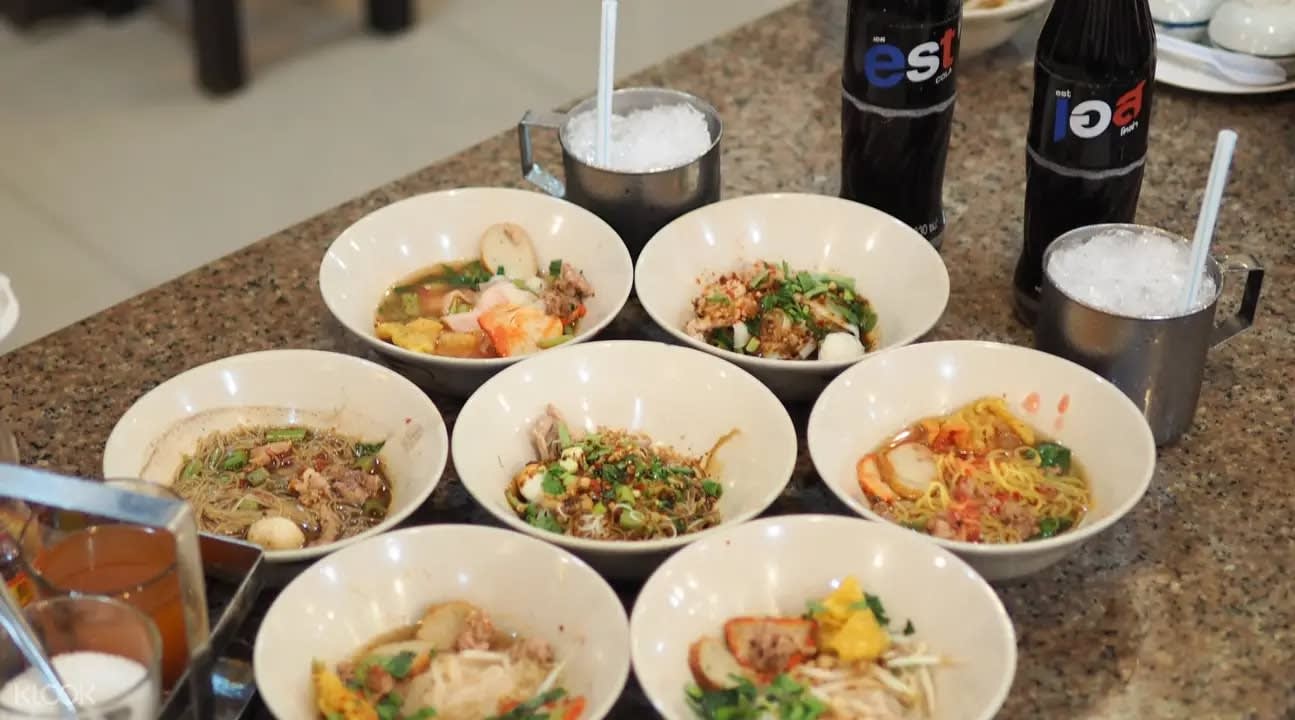 Thai boat noodles or Guaytiao Rua are a cheap fix for those craving for a bowl of noodles. These usually come in small servings and patrons usually order bowl after bowl, aiming to create a tall tower of bowls at the end of the meal.

Pranakorn Boat Noodles is always packed with locals and that's how you know it's good! The broth is thick, flavourful and fresh and the noodles are topped with quality ingredients, giving you the best in each bowl.

Klook your Pranakorn Boat Noodles and you'll get to enjoy 10 bowls of noodles of your choice along with some Cola to wash down all those noodles. Grab a friend and share those noodles, or if you're up for it, you can finish 10 bowls on your own.Nearest BTS Station:Victory Monument
:Phahonyothin Rd, Khwaeng Samsen Nai, Khet Phaya Thai, Krung Thep Maha Nakhon 10400
: Daily 8am to 9pm
9. Wanton Noodles – Gokfayuen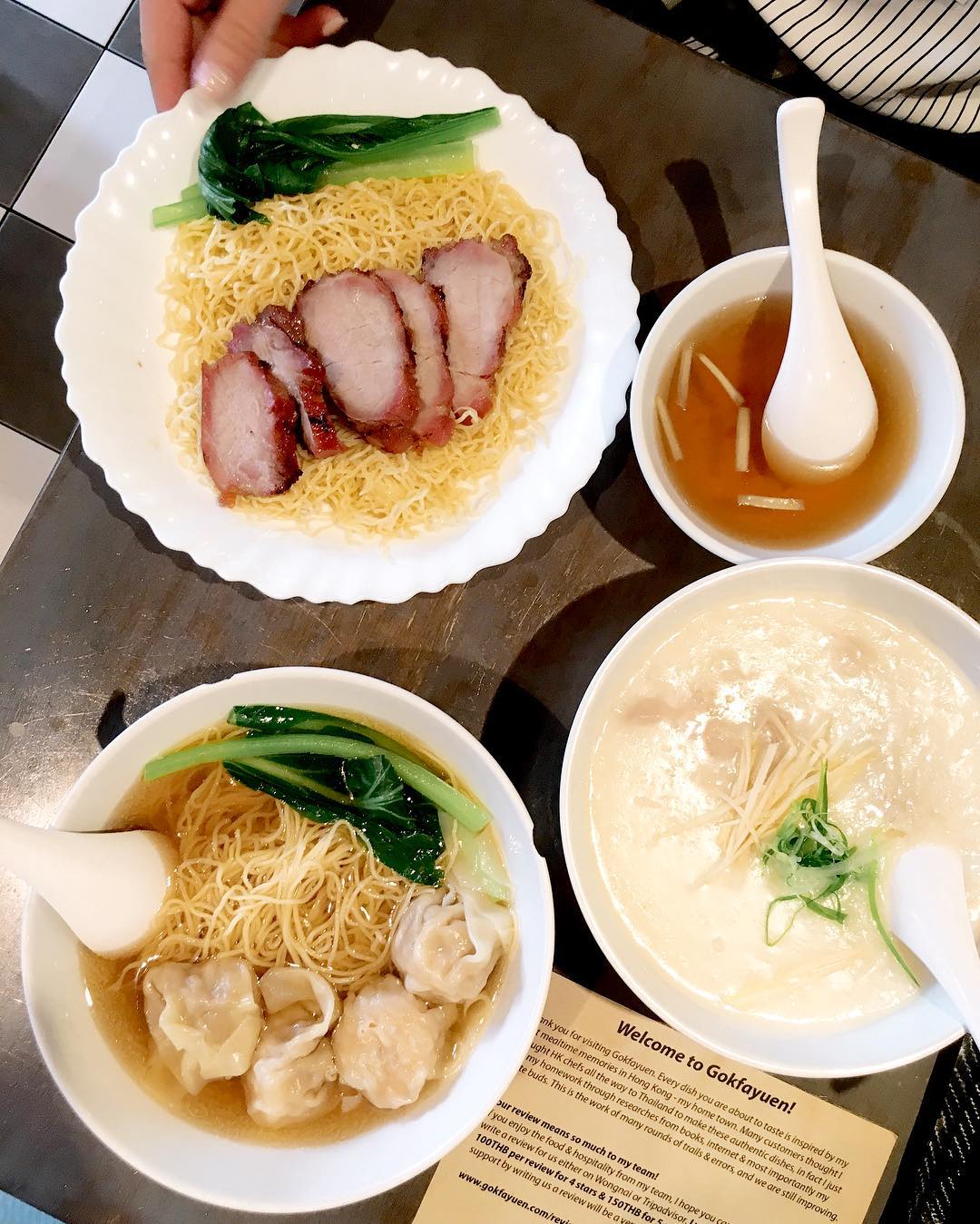 While most of us have heard of the famous Pratunam soi 19 Wanton Noodles that has insane queues and might not have the same high standards as before, this bowl of noodles from Gokfayuen is definitely worth a try!

Located just a few doors down, these Hong Kong style Wanton Noodles come with smokey well seasoned roasted pork (char shiu), tasty savoury soup, springy noodles as well as plump giant wantons, what more could you ask for? Plus, everything is priced between THB 79-139 (SGD 3.39-5.96)!Nearest BTS Station: Thong Lor
:161/7 Soi Thong Lo 9, Khwaeng Khlong Tan Nuea, Khet Watthana, Krung Thep Maha Nakhon 10110, Thailand
: Daily 9am to 10pm
10. Fried Chicken – Soi Polo (Polo Fried Chicken)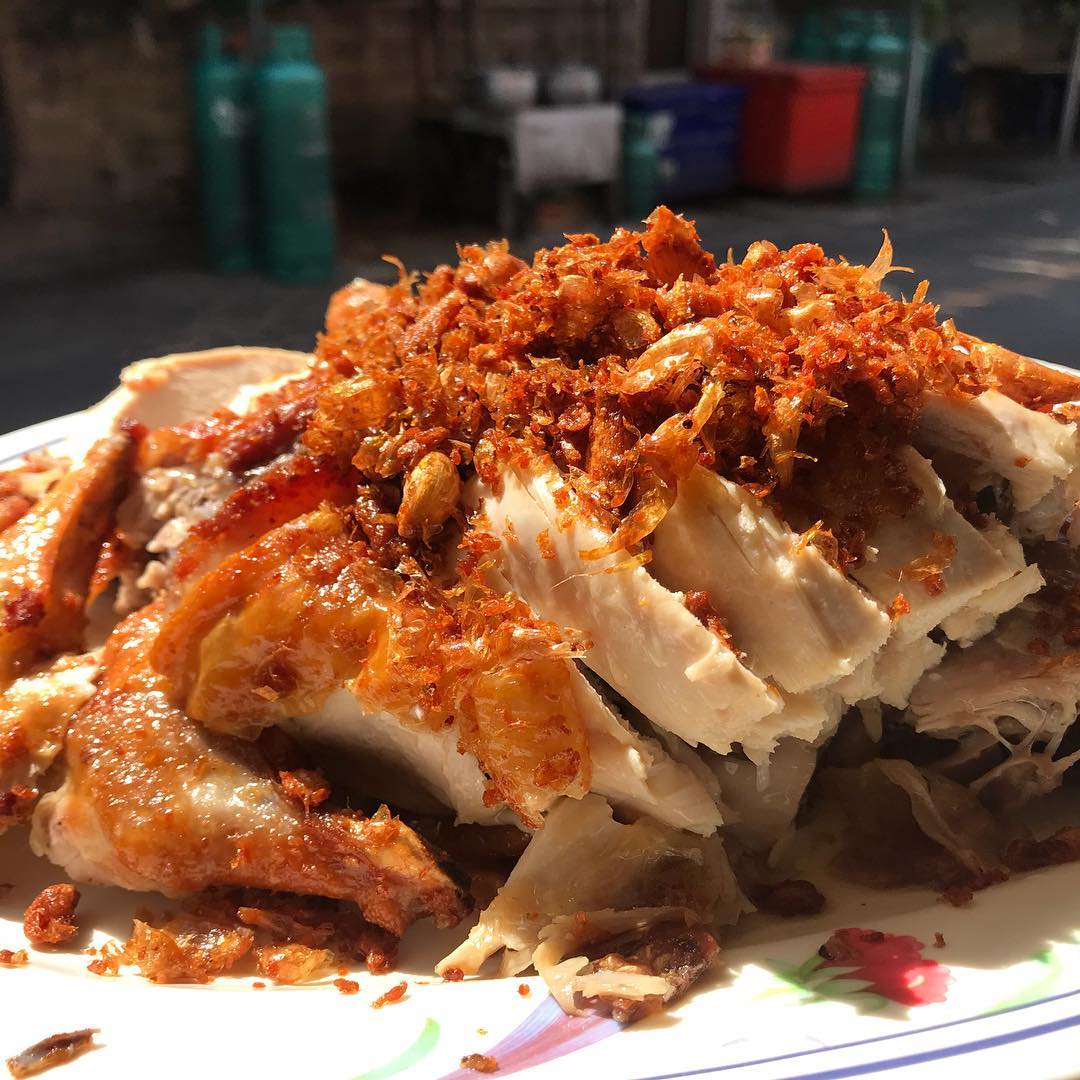 Everybody loves fried chicken and every country has a different way of doing fried chicken. The fried chicken you get in Bangkok is perfectly crunchy, well seasoned and extremely addictive. While you stroll along the streets of Bangkok, you'll notice golden crispy golden fried everywhere.
Award a Michelin Bib Gourmand in 2019, the Soi Polo Fried Chicken is reckoned by locals to be one of the best fried chicken places in Bangkok. The fried chicken is flavoured with black pepper and topped with crispy golden brown garlic. Don't forget to dip yours with the spicy sauce that comes with it.Nearest BTS Station: Ploen Chit
: 137/1-3 Soi Polo, Th Withayu, Wireless Road, Lumphini, Bangkok, Thailand
: Daily 7am to 8.30pm
11. Crab Omelette – Jay Fai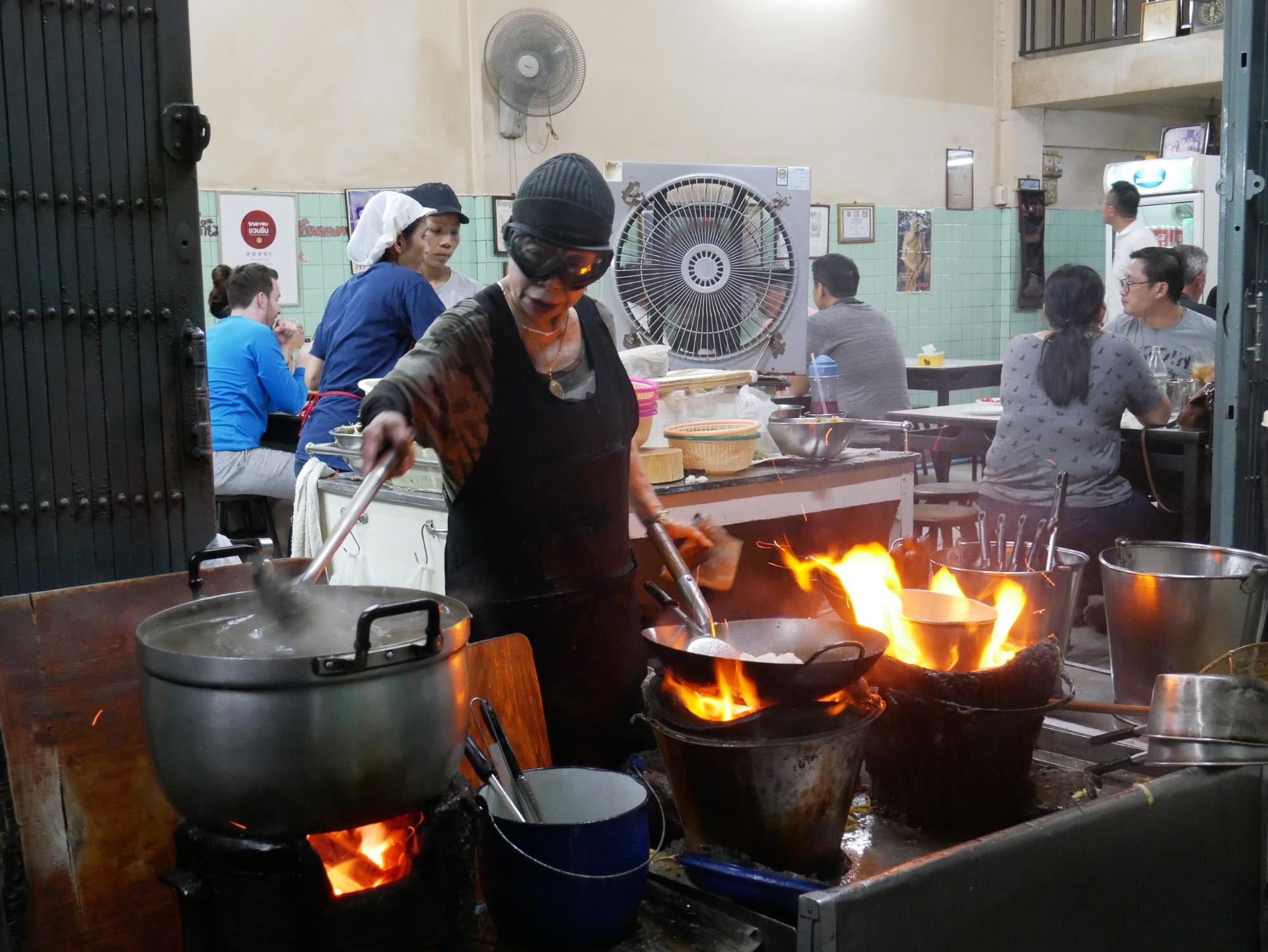 Jay Fai was the only hawker awarded with a Michelin Star in the Bangkok Michelin Guide, that alone is reason to pay this place a visit. But, be warned, you will have to wait incredibly long for a plate of this crab omelette.
The crab omelette comes at a price tag of THB 800 (SGD 32.90) which is insane for street food, but once you see the amount of crab meat, probably a few crabs worth, stuffed into that omelette, you'll understand what you're paying for.Nearest BTS Station: National Stadium
: 327 Mahachai Road (at intersection with Samranrat Road) Bangkok, Thailand
: Monday to Saturday 3pm to 2am | Closed on Sundays
12. Chicken Rice – Go Ang Pratunam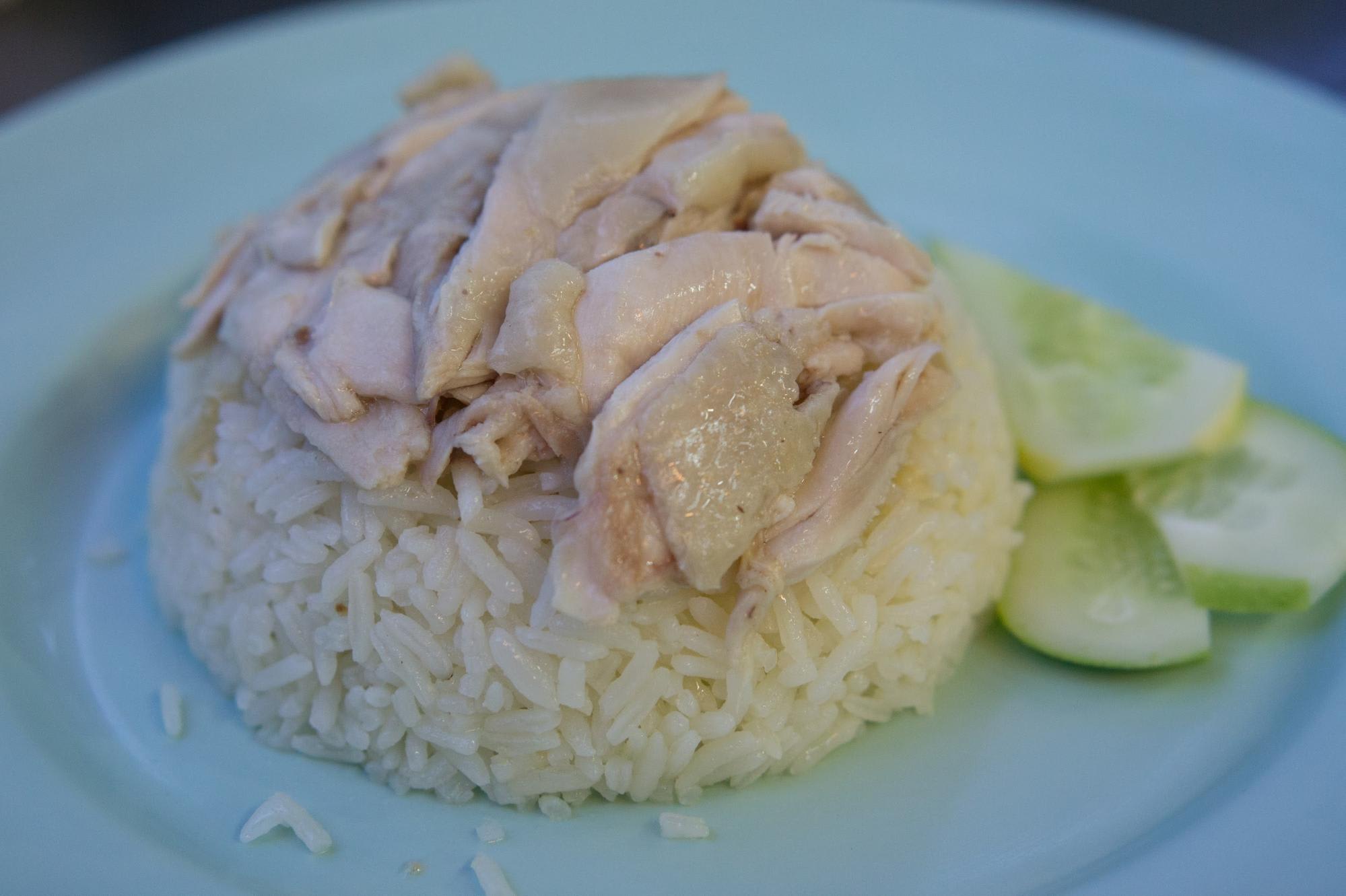 Awarded the Michelin Bib Gourmand in 2018, Go Ang Pratunam's Hainanese style chicken rice in Bangkok is a 5 minute walk from the Platinum Fashion mall, making it a quick shopping break to rest your tired legs.

The dish is a plate of light a fluffy seasoned rice with perfectly poached chicken. Drizzle yours with the dipping sauce for an added kick of spice! They also have side dishes and boiled soups to accompany your plate of rice. Did we mention that each plate of chicken rice only costs THB 40(SGG 1.65)?Nearest BTS Station: Chit Lom
: Poonam Market, 960-962, Phetchaburi Road, Soi 30, Pratunam, Bangkok, Thailand
: Daily 5.30am – 3pm and 5pm to 3am
13. Mango Sticky Rice – Yenly Yours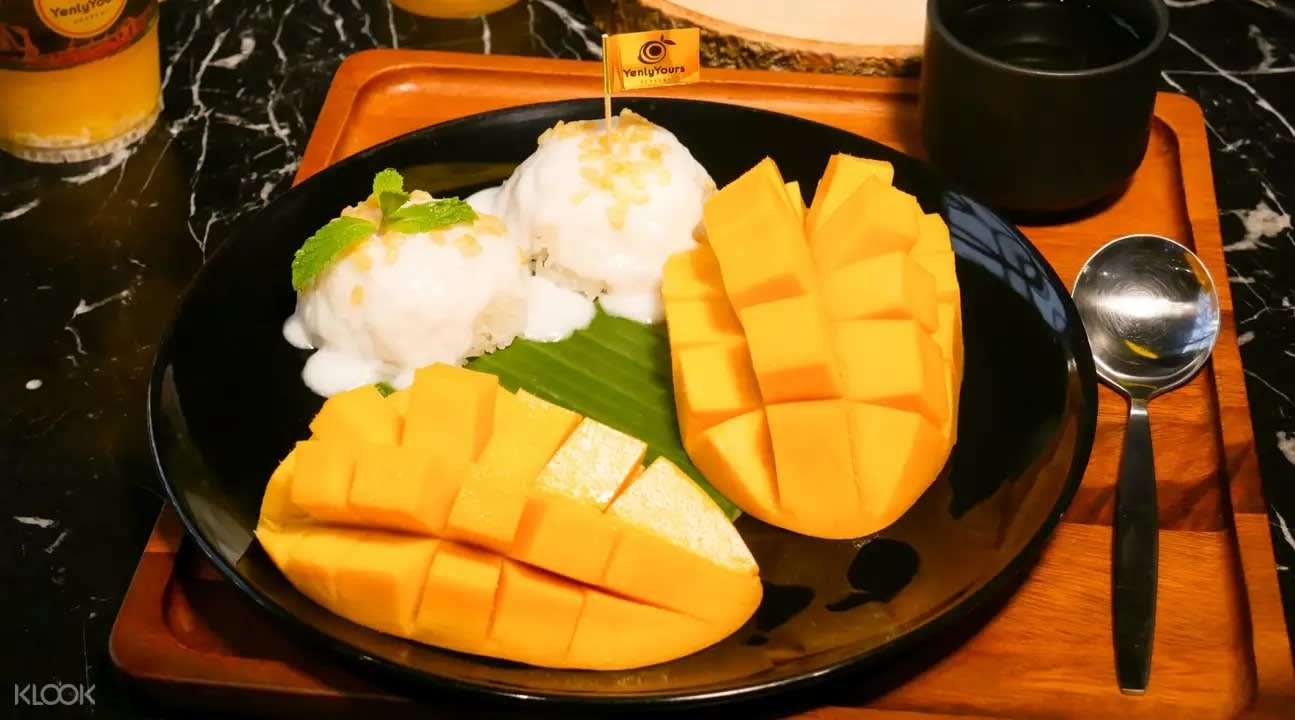 A staple when in Bangkok is definitely Mango Sticky Rice, especially if mangoes are not a fruit you get often back home. Have your fill of this tropical fruit whenever you get to Bangkok at Yenly Yours! The smooth mango pudding coupled with the chewy sticky rice and topped with the sweetest and juiciest mangoes are the perfect sweet treat after any meal.

Klook your Yenly Yours sticky rice combo or a signature smoothie and enjoy discounts on your mango desserts! Just flash your Klook voucher on the app to redeem. With so many outlets around the city, find the one nearest to you!
14. Pandan cake Kanom Krok Bai Toey – Siam Pandan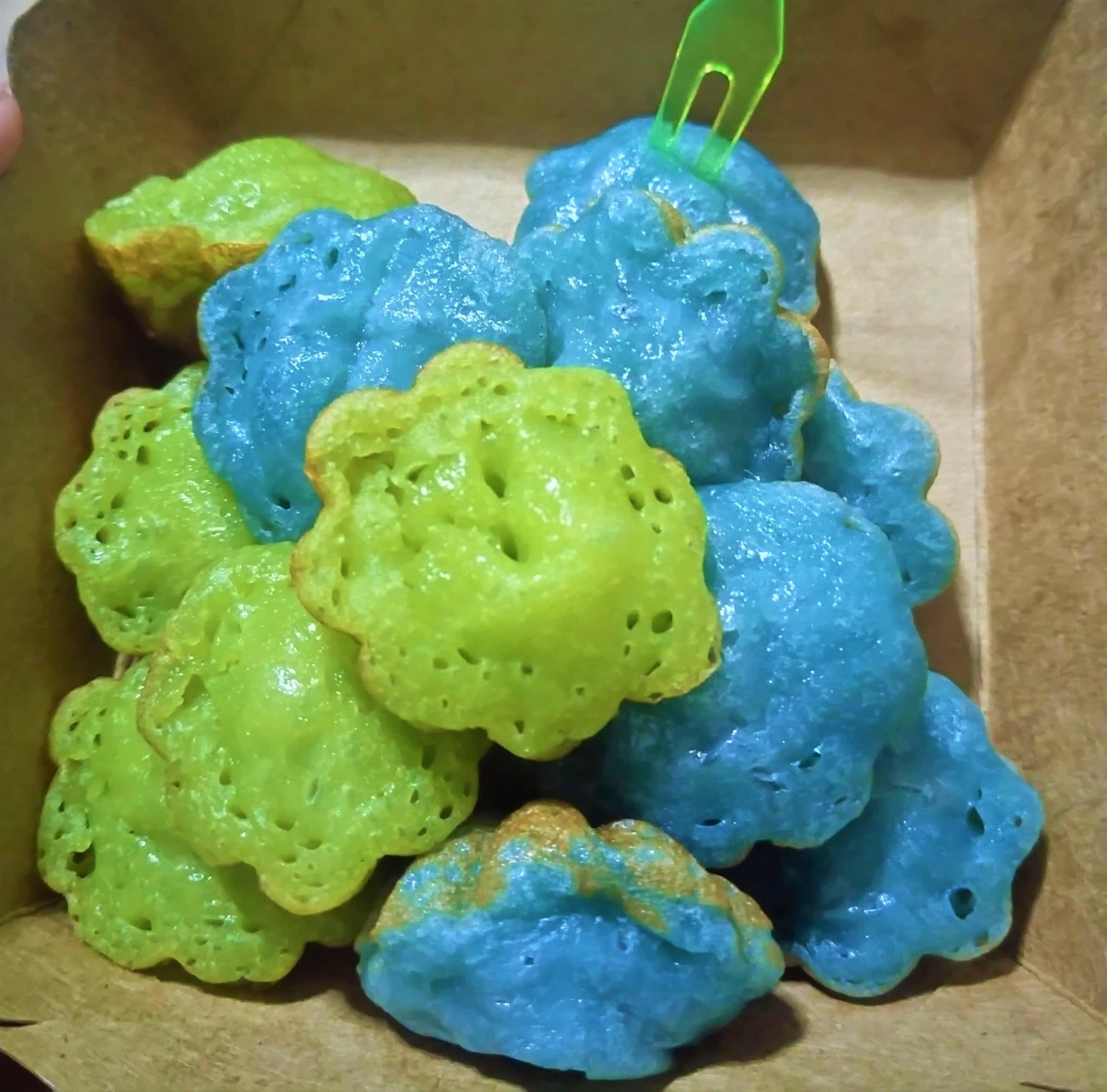 Kanom Krok Bai Toey is a Thai snack made with pandan and you'll definitely have to try it on your trip to Bangkok. Get yours at Siam Pandan, a humble store that sells this chewy pandan cake as well as other coconut sweet treats. This chewy treat is a great light snack while you shop along the streets of Siam.Nearest BTS Station: Siam
: Siam Square Soi 6, Khwaeng Pathum Wan, Khet Pathum Wan, Krung Thep Maha Nakhon 10330, Thailand
15. Duck Noodles – Pondtip Pratunam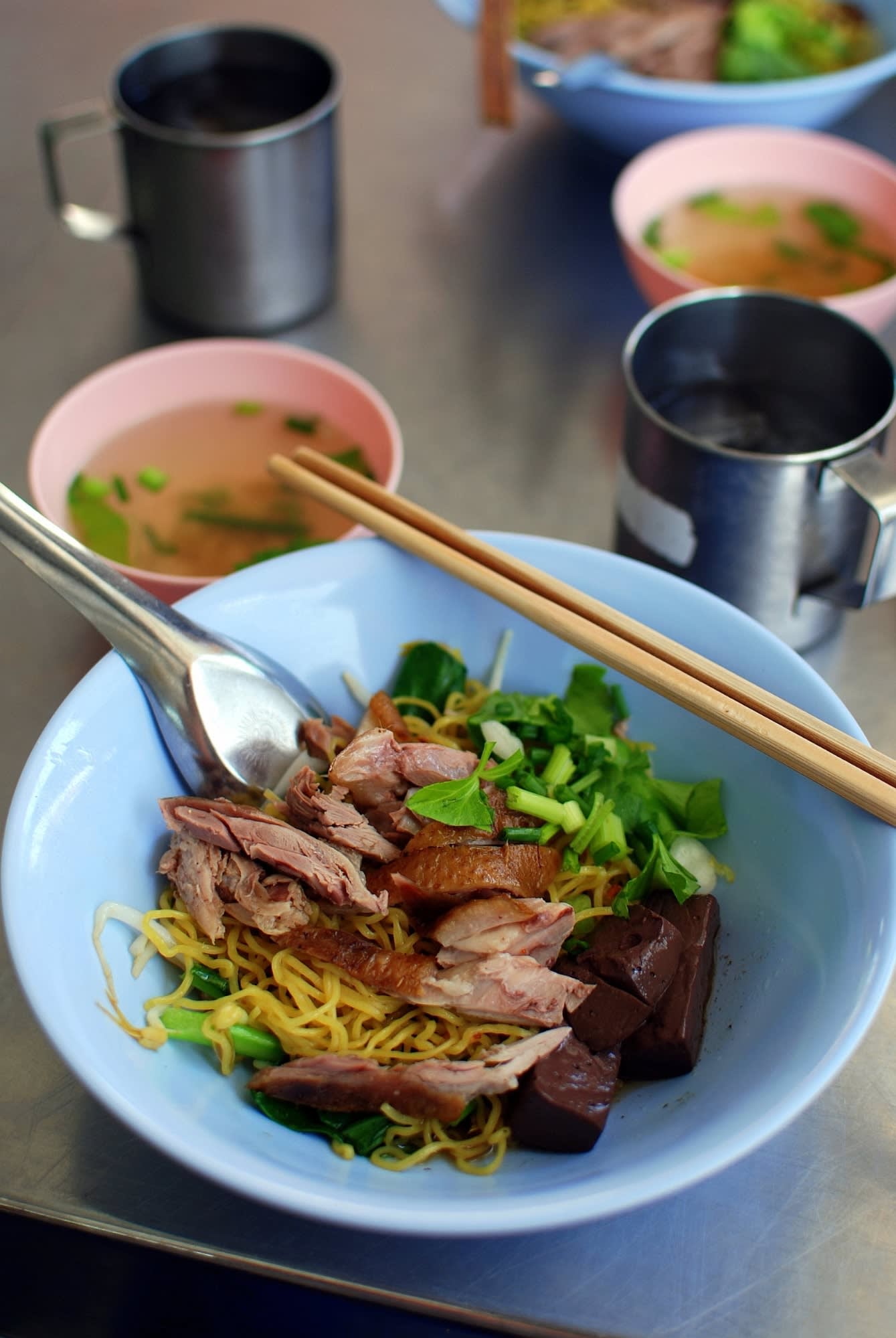 If you're looking for a bowl of delicious duck noodles, the stewed duck at Pondtip Pratunam is one of the best in Bangkok. The broth is rich in flavour and the meat is stewed to perfection and fall off the bone tender. It'll have you slurping up your bowl of noodles in no time. Plus, a bowl of noodles only cost THB 40!Nearest BTS Station: Chit Lom
: 922-924 New Petchburi Rd, Makkasan, Ratchatewee, Bangkok, Thailand
: Daily 6am to 9pm
16. Crab curry – Savoey

When you're in Bangkok, one of the must try dishes is curry crab! One of the best places to try this is theSavoey Restaurant, known to have one of the best curry crabs in Bangkok. The huge pieces of juicy and sweet crab meat are tossed in a rich fragrant curry sauce that you'll be scraping the bowl for. The deep fried Snakehead Murrel fish is also another dish you musn't miss at Savoey!

It can get pretty popular at times so be sure to Klook yourselves a free reservation voucher that will also grant you 10-15% off all menu items! There are 7 different outlets so pick the one nearest to you and get ready to stuff your bellies.
Other Bangkok essentials
Now that you've got your meals all settled, here are some activities to check out in Bangkok: