Bali: A 4-Day Itinerary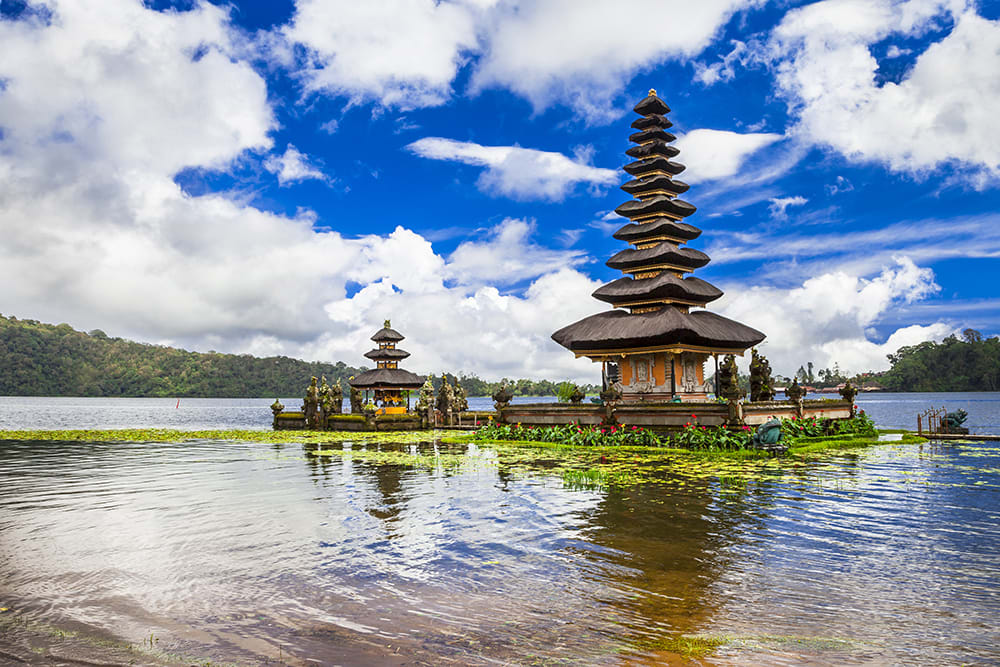 We've been hard at work considering how to fit the best of Bali into one of our 'A Weekend In' itineraries. After much thought, however, it occurred to us that it just wouldn't work – should you wish for a full, satisfying trip to the Indonesian island, we reckon you stick around for at least four days.
With that in mind, we've tried once again to fit some Balinese highlights into this itinerary, covering a bit of culture, spirituality, good food and, of course, beaches, from the South upward; the East, westward. Days One to Three are composed of sightseeing, while we've offered ideas for a Day Four for your design. Full disclosure: this itinerary contains tour activities from Klook, which we think cover a good, comprehensive deal of sights with the added convenience of transfers and transportation.
Day 1
A day in the South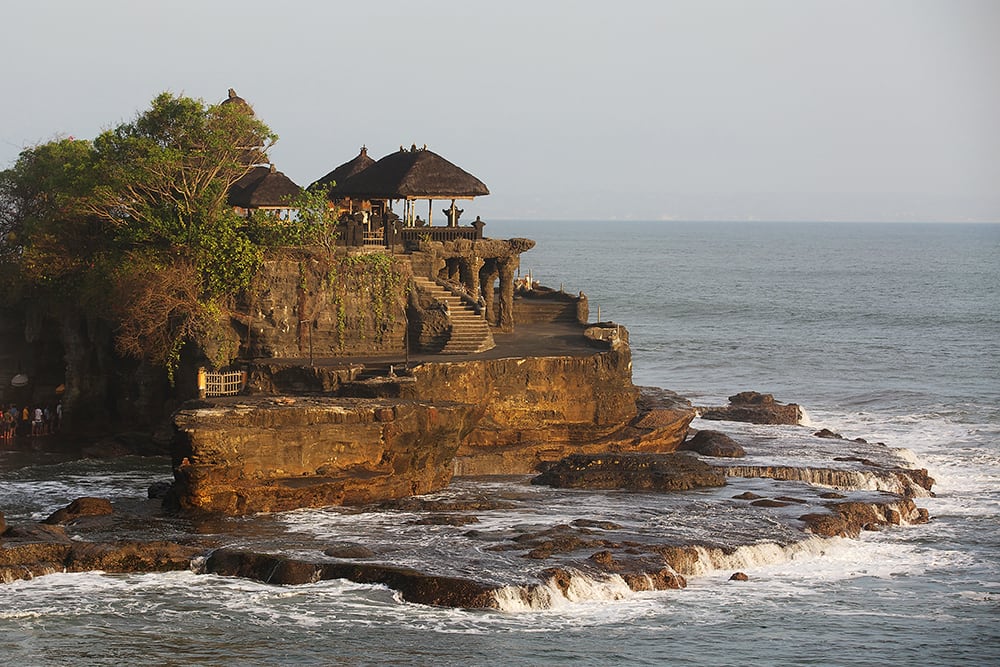 Marine Temple
Spend the morning settling in, then explore the Kuta-Canggu stretch of beach. While the area is abuzz with tourists, it's a great way to get acquainted with the island before embarking on your tour for the day. Wind your way through the bustle of Kuta and its narrow streets, rife with hawkers, stalls and surf schools. Drop by one of the shopping centers – Discovery Kartika Plaza, Beachwalk Mall, Galeria. At Legian, shop the stalls for sarongs and other knicknacks. Seminyak and Petitenget is home to the fashion aficionado's favorite boutiques and spas, while Canggu offers a surfer's haven.
Don't forget to enjoy brunch or lunch at one of the many dining options to fuel up for the day. Some recommendations: Naughty Nuri's Warung in Kuta, Ku De Ta in Seminyak, Bambu Restaurant in Petitenget.
For your first tour, get picked up from your hotel at 1:30PM to see the Taman Ayun Temple in Mengwi. The place of worship features traditional Balinese architecture, and is set in a beautiful garden with courtyards and lotus ponds.
Afterward, roam the grounds of Alas Kedaton or the Monkey Forest, alongside its freely gallivanting monkey residents, and drop by the Alas Kedaton Temple, a Balinese, Hindu temple.
Next, visit the iconic Marine Temple of Tanah Lot, situated on an island rock the result of erosion over the years. It's said to be one of the most sacred temples in the island.
Be dropped off at your hotel around 7:30PM, then head to the fishing village of Jimbaran for a delicious seafood dinner.
Day 2
Head Eastward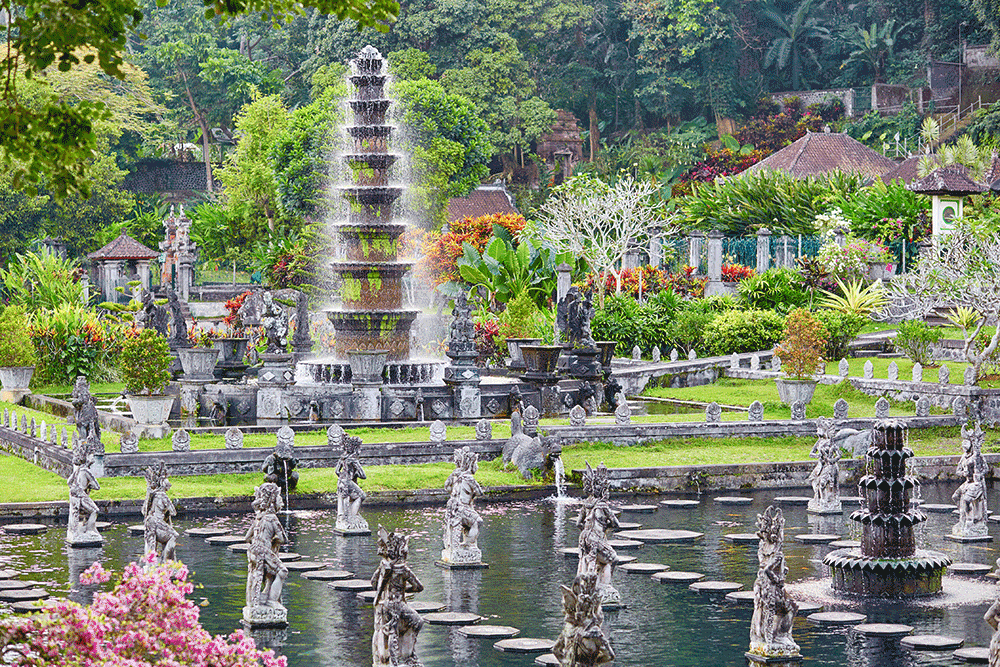 Tirta Cangga Royal Palace
Start your day with an 8:30AM pickup and head to the Kusamba Salt Mining & Fishing Village,a black sand beach home to traditional salt farmers. Learn about their day-to-day activities before visiting the nearby Goa Lawah Temple & Bat Cave, an 11th century structure that also houses thousands of bats. (Caution: strong odor ahead!)
Afterward, see the Tenganan Ancient Village for a glimpse of rural Balinese life, then stop over at the beautiful seaside town of Candi Dasa for lunch.
Resume in the afternoon with a visit to the Karangasem Royal Palace, built in the 19th Century by the first king of Karangasem. You'll also visit the nearby Taman Ujung Suka Sada Guesthouse, which housed noble families and foreign guests during their visits.
As a last stop, see the Tirta Gangga Royal Bathing Place, a beautiful water garden complex of large pools and water fountains, located near a natural spring.
You'll be dropped off at your hotel around 6:30PM. While early, make it back to Seminyak for dinner, and get ready for a taste of the nightlife – clubs Ku De Ta and Potato Head are some of our favorite go-to's when it comes to partying the night away.
Day 3
See West Bali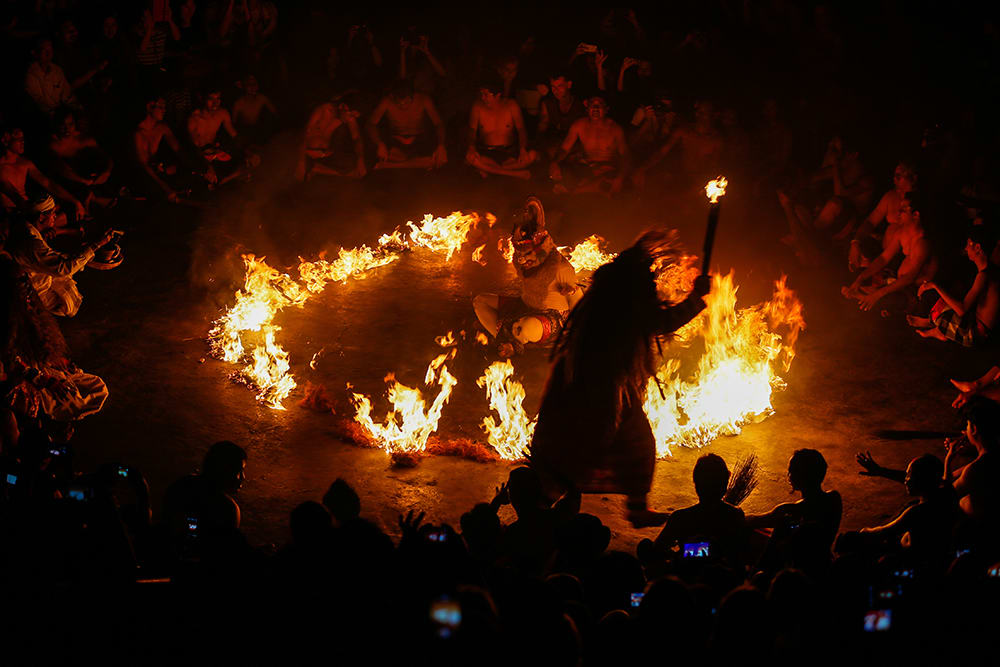 Kecak Dance Performance
Start early with a 7:30AM pickup and head to Pejaten Village, known for its local ceramics industry (you'll find everything from tiles to pottery to housewares).
Then visit one of the largest temples in Bali, the Batukaru Temple, set within a tropical rainforest at the foot of Mount Batukaru. The temple is one of the island's Directional Temples, said to protect the Western side of Bali from evil spirits.
Next is a stop at Jatiluwih Village for a glimpse of the scenic rice terraces, listed as a UNESCO heritage site. From here, it's a lunch break before being dropped off at your accommodation around 3:30PM.
After a brief afternoon break, visit the Luhur Uluwatu Temple perched beautifully on a cliff. Stay for the sunset – few other places on the island offer such splendid views – then catch the traditional Kecak Dance Performance afterwards. Tip: This tour offers to take you to the temple and includes admission to watch the performance, before dropping you off at 8:30PM.
We recommend you take the night to rest, afterward, and recharge for your early morning trek the following day…
Day 4
A sunrise on Mt. Batur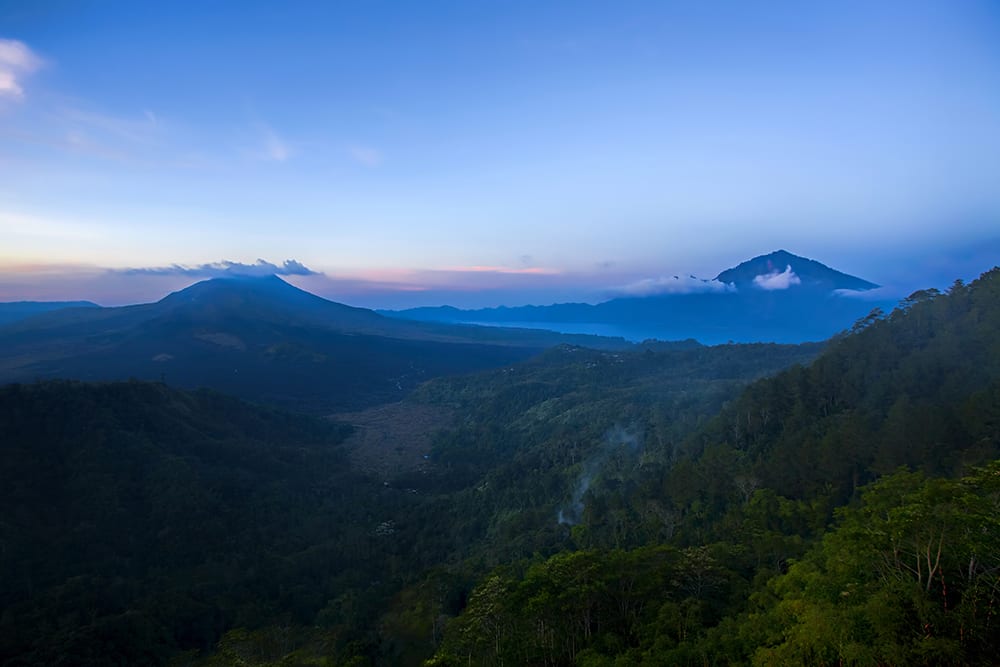 Sunrise over Mt. Batur
You've witnessed a sunset in Bali; now it's time to see the sunrise. Shortly after midnight – at around 2 in the morning – set out on a 90-minute drive to the foot of Mount Batur. Enjoy a two-hour trek to the summit with your private guide, and make it in time to see the sun rise in the horizon. It may sound like a lot of effort, but if you can't picture it yet, we assure you that the view from the top is nothing short of breathtaking!
Enjoy breakfast before returning to your hotel at around 7:30AM.
Having seen most of the island's temples and cultural landmarks, we recommend you spend your last day simply taking in the rest of Bali.
Some ideas: Ubud is a good place to visit for its artistic focal points: the Neka Art Museum, Agung Rai Museum of Art, Blanco Renaissance Museum. It's also peppered with art galleries and stores. Surfers will enjoy a day spent in Canggu, particularly at the laidback, beachfront hub of Old Man's. You may also consider an afternoon dive to see underwater wrecks, or a luxury boat trip to Nusa Lembongan, or even an indulgent spa session in Seminyak.
If, instead, you just want a day lazing on the beach, Sanur and Nusa Dua have our votes for being less populated and touristy than Kuta.
However busy or easygoing your last day in Bali, one thing is for sure: you'll surely want another one, just another one, more day in the island.
NOTE: Please help supporting my page by booking tour through Klool, you'll get a AUD4.5 reward, and we also get AUD4.5 as well. Thank you so much- please have a safe and fun trip. Hope to see you guys soon.