If Nepal as a travel destination sounds underrated, that's probably because it is – but only if you aren't the outdoorsy, adventurous type. It has, after all, been long known for its postcard mountains, Everest treks, water rafting rivers and paraglide-worthy skies. Next to that are the Durbar Squares, and so travelers are often wont to divide their travel intents and interests: should I go for the culture, or the adventure?
It's very possible to do both, of course, without worrying about athletic capacity and cultural inclination. Indeed, all it takes is proper planning and looking in the right places to enjoy the best of Nepal's worlds. In this itinerary, we begin in the capital of Kathmandu, with a throwback to the Malla reign and a number of sightseeing trips around the city and in nature. Midway through, an adrenaline-pumped journey will take you to Pokhara, where more of the outdoors(y challenges) await.
Ready? Here's how to spend a fun, full week in the Himalayan nation of Nepal.
Day 1
Go Back In History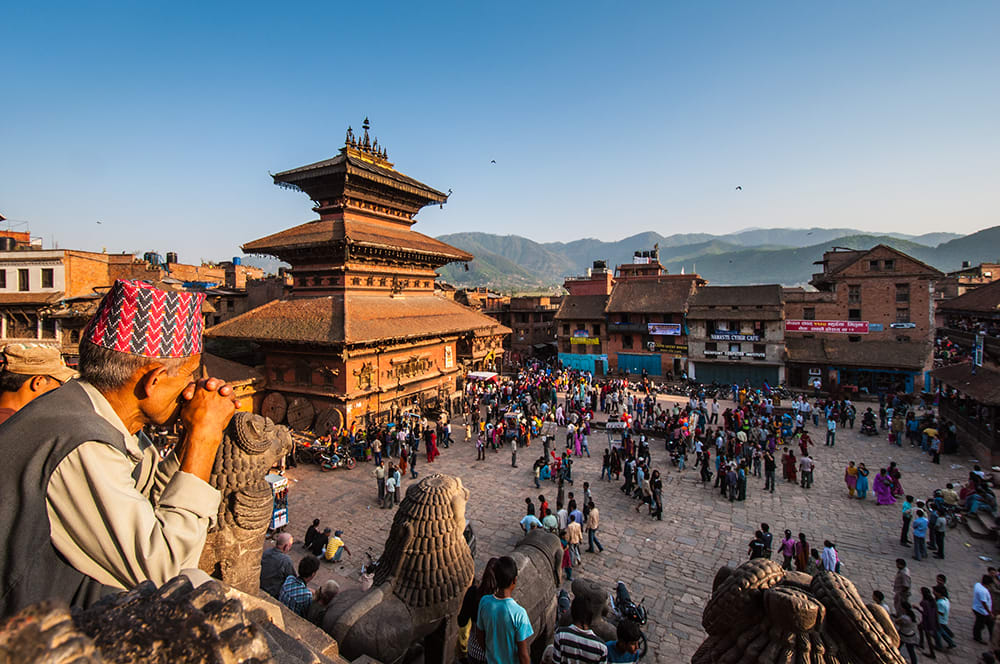 Kathmandu Durbar Square
Dive into history with a visit to Hanuman Dhoka Square, the city's UNESCO-listed Durbar Square, and roam its temples and statues.
Next, drop by the Swayambunath Stupa, known as the most important Buddhist shrine in Kathmandu. Its English name? Monkey Temple – for the dozens of forest monkeys surrounding the staircase leading up to the complex.
From there, make your way to the largest stupa in the valley: Boudhanath Stupa, also the holiest Tibetan Buddhist Temple outside Tibet.
Cap off the afternoon with a stop at Pashupatinath along the Bagmati River. The area consists of a Hindu temple, and is also known for its open-air cremation sites – which are quite a sight!
 Tip: Why not do a private full-day tour to see the aforementioned landmarks, which comes with the convenience of air-conditioned transportation? Your trip begins at around 8:30AM and concludes around 4:30PM.
Afterward, explore the markets of Thamel. Considered the tourist hub of the city, it's usually populated, but it's also a good place to do a little shopping – you'll find everything from books to knock-offs of climbing gear.
For dinner, head to the culinary institution that is Utse, a restaurant well loved for their delicious Nepali and Tibetan cuisines. Try their gacok (hotpot), and don't forget a serving of momos (a type of dumpling)!
Day 2
Trek Through Nature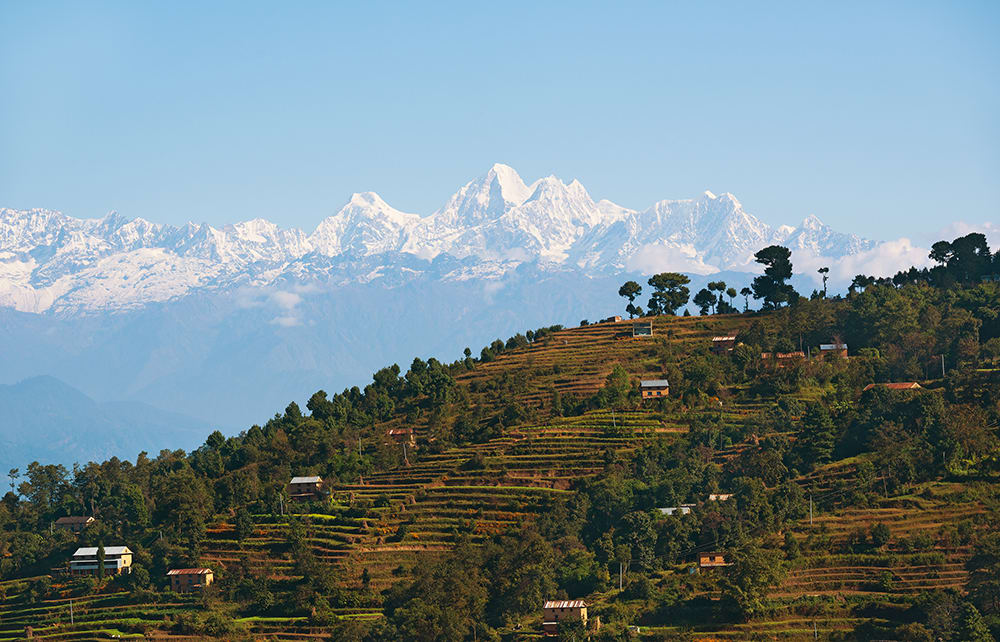 Views from Nagarkot
Experience the Himalayan countryside with a trek around Nagarkot, a hillside town blessed with splendid views of the Annapurna mountain range to the west and Everest to the east. You'll also get a glimpse of day-to-day life for ethnic communities, particularly those of the Tamang and the Newari.
See another World Heritage Site, a Vishnu shrine known as the Changu Narayan Temple. Watch out for the beautiful carvings, works of art that date back to the Licchavi period. (The trek runs from 7:30AM to around 3:30PM)
OR: If you're up for a challenge, how about a mountain biking adventure down Kakani? This downhill route cuts through Shivapuri Nagarjun National Park, rife with breathtaking views; and runs through Budhanilkantha, an area off-limits to tourists and reserved only for Buddhist and Hindu devotees. The route is rather popular among adrenaline junkies, often in checklists of things to do while in Kathmandu. (An approx. 10-hour journey, from 7AM to 5:30PM)
To cap off the day, book a cultural dinner show featuring local Nepali cuisine and a traditional Mayar Dance show. Tip: Get some rest afterward and recharge for the next day's adventures!
Day 3
Everest & Throwbacks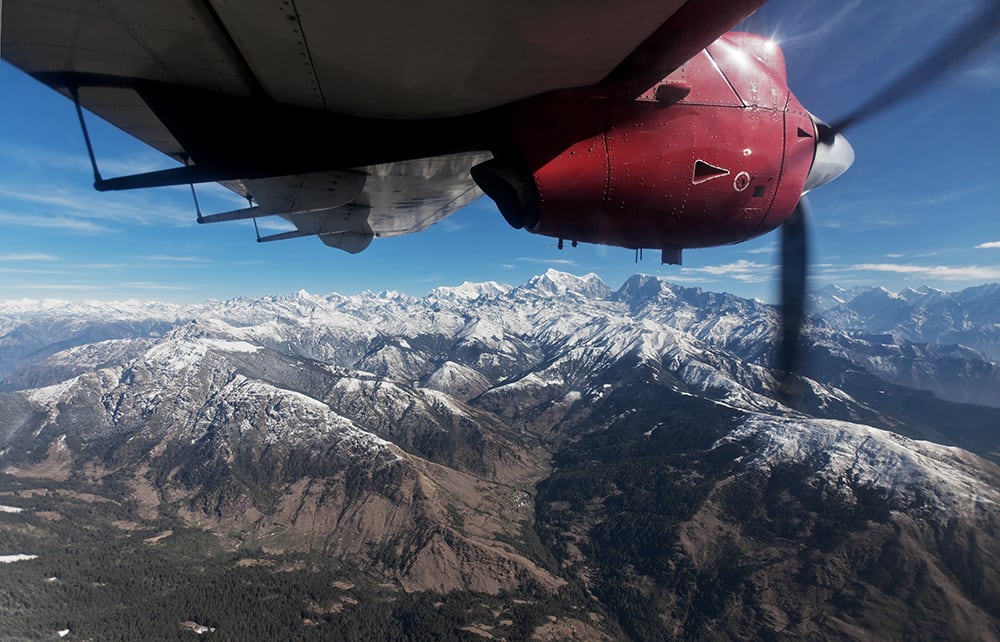 See Mt. Everest with a mountain flight
Start the day with breathtaking views of Nepal's iconic landmark and exquisite crowning glory: Mt. Everest. Book a morning mountain flight and enjoy a thrilling hour in the skies, glimpsing the world's highest peak and its neighboring summits.
Afterward, head to the ancient city of Patan, where you'll find some of the valley's finest sculptures and crafts – as well as their makers. Its Durbar Square is also a UNESCO Heritage Site.
Also home to another UNESCO site is Bhaktapur and its Durbar Square. This city charmingly harks back to days of old, with streets and structures still in their ancient architectural forms. Drop by the beautiful, 30-meter tall Nyatapola Temple, one of the tallest across the valley. Tip: You'll be thankful to go on a private, transportation-inclusive tour of these sites.
For dinner – and a fun immersion with locals – enjoy a late afternoon cooking class with a host Nepali family. You'll learn to make the staples, such as momos, dhalbhat and sel roti, then serve and enjoy your own homemade dinner with the rest of the family!
That wraps up your stay in Kathmandu. Pack your bags, get some rest, and ready yourselves for an adventurous ride to Pokhara.
Day 4
Kathmandu-Pokhara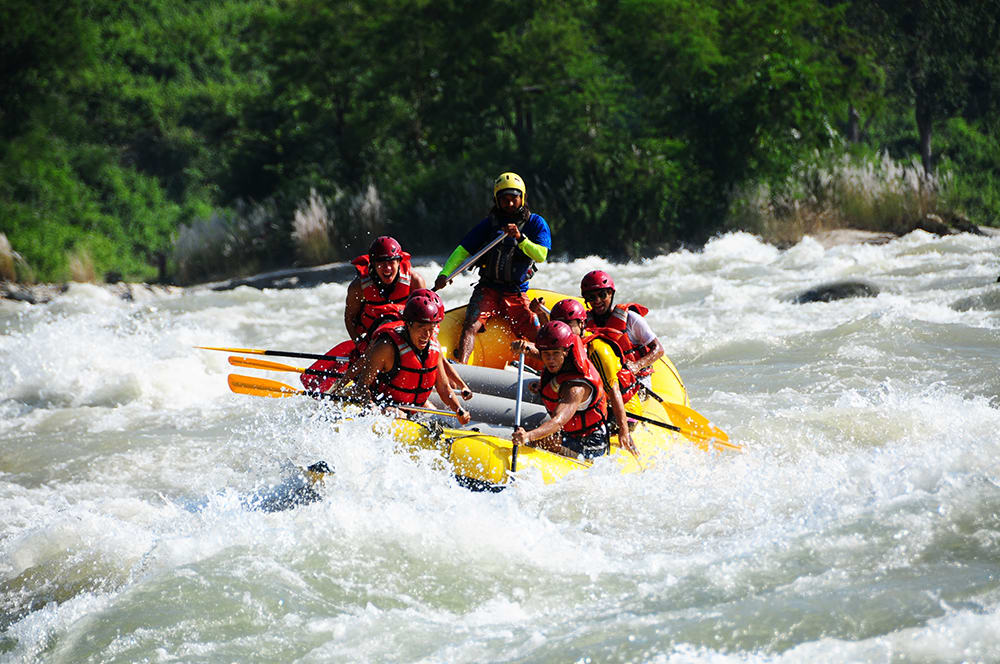 Go whitewater rafting along the Trisuli
It's time for the more adventurous leg of your trip: hop onto a raft, and enjoy a whitewater rafting adventure along the Trisuli River as you head onward to Pokhara! We reckon this fun and wild ride to be the best way to get from Kathmandu to your next city – but if that's too much for the faint of heart…
…you could also consider a scenic drive.
Spend the rest of the evening settling in and readying yourself to see the adventure capital of Nepal.
Day 5
See the City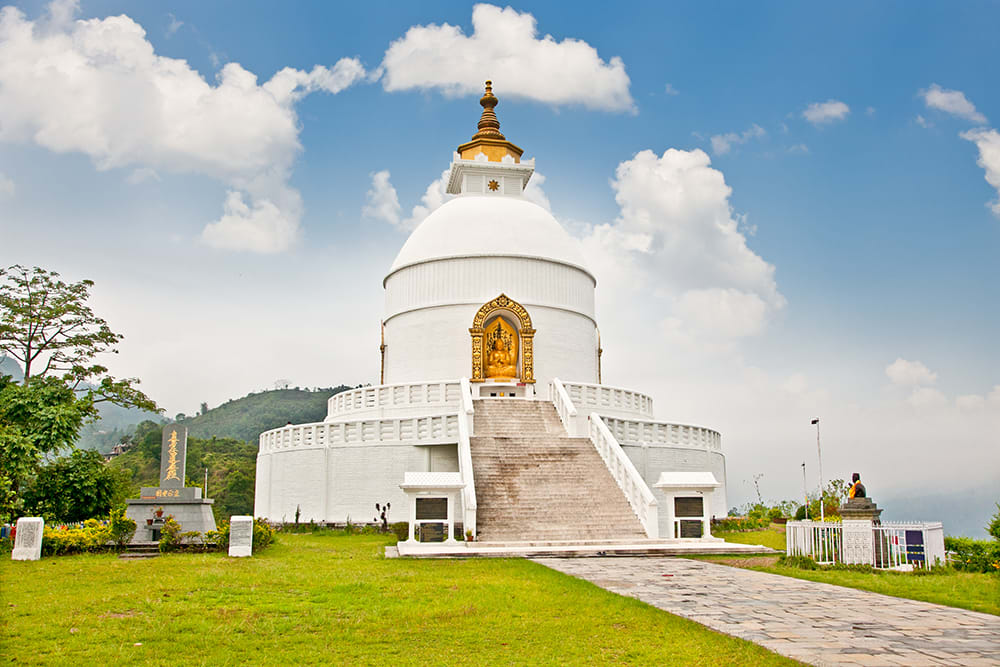 The World Peace Pagoda
If you're game for an early start, enjoy a quintessential Pokhara experience: an ultralight flight. Savor incredible views of the Himalayas, including the expansive Phewa Lake, the second largest in Nepal.
For breakfast (or brunch), Mike's Restaurant at Lakeside is an undisputed favorite. The diner serves a Western menu, and is often raved about for its eggs florentine, with a generous serving of gorgeous, mountainside views.
In the afternoon, experience Pokhara's share of culture. Visit the iconic World Peace Pagodaand its massive white Buddhist stupa, then see Phewa Lake up close, where you may also enjoy a serene boating trip.
Drop by the Barahi Temple in the middle of the lake, one of Nepal's oldest temples. Tip: Again, you'll want to do this private half-day tour, which comes with convenient transpo!
Head back to Lakeside for a taste of Pokhara's nightlife. Grab dinner at Maya's Pub & Restaurant, then head to Club Amsterdam or The Blues Bar for a drink, spiked with a dose of live music.
Day 6
Egyptian Vultures & The Old Bazaar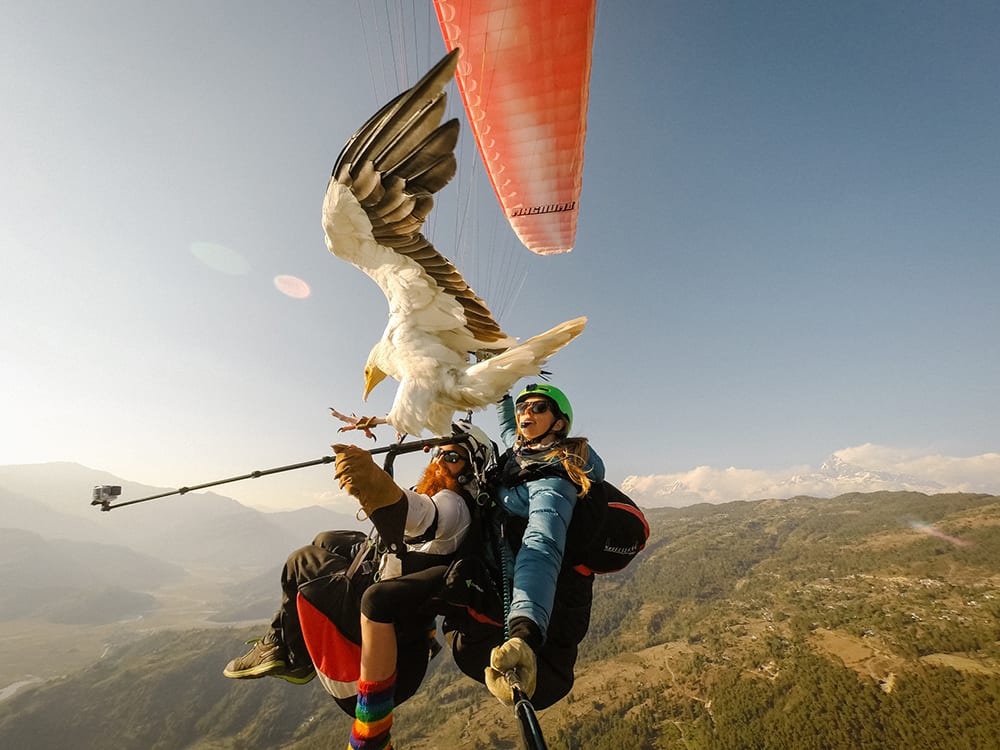 Photo by Rebecca Bredehoft
Another must-do in Pokhara is paragliding, but why stop at paragliding with a human companion when you could totally do that with an Egyptian Vulture, too? Indeed, take paragliding to another level with parahawking, an experience that raises awareness of vulture conservation and rehabilitation simply with your participation. Learn more about these incredible creatures and experience soaring the skies with them in a sort of tandem flight, an experience you won't forget.
Enjoy more local Nepali fare for lunch at Pokhara Thakali Kitchen, also situated in the Lakeside district, and enjoy authentic delicacies from the Nepali region of Mustang.
Resume the adventurous streak with another river rafting adventure. This time, conquer the Upper Seti River, another river rafting favorite.
ALTERNATIVELY: If you're still worn from the previous day's river adventure, why not ride down the world's longest zipline instead?
Spend the rest of the afternoon exploring the Old Bazaar and its colorful and diverse range of merchandise. The area is also home to Bindhyabasini Mandir, one of the oldest temples in Pokhara and dedicated to the goddess Bhagwati, the city's guardian diety.
Drop by Once Upon A Time for dinner, another popular Lakeside restaurant serving Indian fare.
Day 7
Take On The Mountain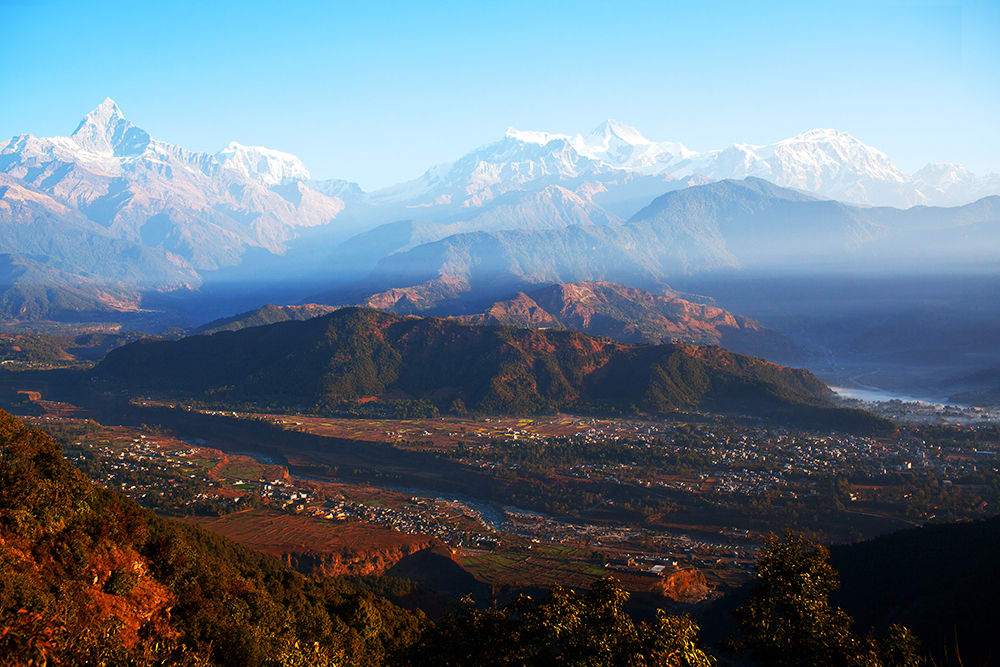 Views from Sarangkot
Enjoy your last day in Pokhara conquering its beautiful mountainside by bike. Ride up to the Sarangkot ridge line, where you'll find nothing but incredible views of the Annapurnas, Pokhara city, and Phewa Lake.
The journey, which runs from around 9:30AM to 5PM, will take you past scenic Nepali farmlands, to the lake shore and back, complete with a lunch break.
Cap off your stay in Nepal with a hearty dinner back at Lakeside, at the popular Lemon Tree restaurant. Select from their menu of Chinese, Indian and Newari dishes, and if you're not too tired, head over to Busy Bee one more drink – or two!