KOH RONG SAMLOEM ISLAND
Koh Rong Samloem Island is one of those places that you want to run out and tell the world about, but at the same time keep your own little secret. With just a smattering of low key accommodation, the island is still very underdeveloped, and its pristine beauty is completely unspoiled by tourism. There's not a lot going on on the island except a really gorgeous beach and the opportunity to disconnect from "real life."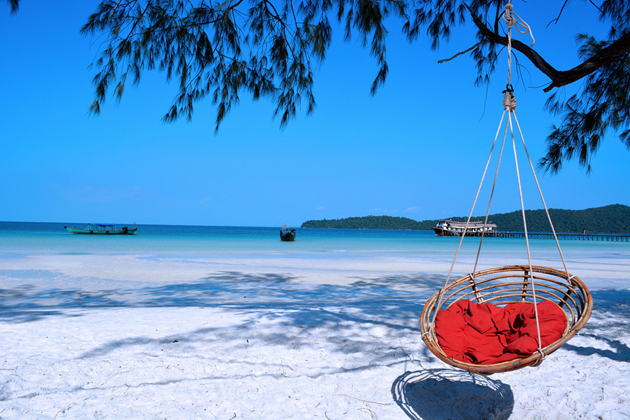 I'm back in the beautiful island of Cambodia and no matter how many times I've been to the island, it's always a different experience. There's always a new discovery, new friends were made and new memories were created. For this trip, we had no itinerary whatsoever. It is such a beautiful, little paradise. My girlfriend and I always came here to relax.
We would wake up around 8 in the morning, have breakfast, take a little walk on the beach or sit on the swing. Then head back to our bungalow and relax in front of our ocean front bungalow with cold beer in hand. What a beautiful life? We would only wake up when we hungry or when I'm running out of beer.
Food on the island is a bit pricey because it all needs to come in by boat. There's a small convenience store on the island, but nowhere to buy proper groceries. If you're on a budget, the best bet is Sweet Dreams. They have a set menu where you can get a drink, main and dessert for just a few dollars.
We always go to Orchid Resort Restaurant for food and drink. which will be smack in front of you as you come off the dock. We enjoyed their mix BBQ with rice, vegetable stir fry, and my favorite of all is fry rice with chili soy sauce. And for breakfast, I always go with noodle soup (Beef or pork, seafood). It just soooooo tasty. 10/10 for noodle soup.
In the evening, start from 6pm- this restaurant also offers a fancy romantic dinner as well. Got yourself a table in front of the beach, with a little light, a bottle of red/white wine. What a romantic getaway on a budget. we spend only $150 for two night- that includes our beachfront bungalow, meal, and of course my Angkor beer.